lifesitenews.com
February 11, 2021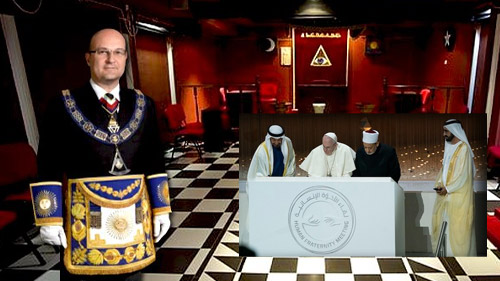 "For the second time in less than five months, the Gran Logia de España, Spain's main masonic lodge, has expressed its profound satisfaction at Pope Francis's involvement in the 'Human Fraternity' initiative launched in Abu Dhabi on February 4, 2019. This time, the Spanish Freemasons published a long message welcoming the first ever International Day of Human Fraternity a few days ago, again on February 4, during which Pope Francis, together with Grand Imam Ahmad al-Tayyeb, bestowed an award for peace and fraternity on U.N. secretary general António Guterres in an online ceremony.
That the Spanish Grand Lodge should have taken it unto itself thus publicly to endorse Pope Francis is not just a local reality: its grand master, Óscar de Alfonso, was elected to the post of executive secretary of the World Conference of Regular Grand Lodges in November 2019, making him the master Mason at the head of the Coordination of World Masonry — some four million people…
Alongside 'Fraternity,' which is one of the keywords of Freemasonry, access to contraception and abortion — as well as other aspects of the culture of death —– is a self-avowed goal of the Masons. A gynecologist and former grand master of the Grande Loge of France, Pierre Simon, wrote about the Freemasonry's and his own personal involvement in making contraception and abortion legal in France in the 1960s and 1970s in an autobiographical book called De la vie avant toute chose (Of Life before Everything, 1979).
The U.N.'s support for the avoiding and killing of babies could only encourage the Freemasons to commend the Pope and the imam's commitment to 'human fraternity' despite its obvious one-sidedness, which allows so many millions of the unborn to be deliberately eliminated every year.
The Italian daily Il Messaggero published a story this Tuesday underscoring the Spanish Grand Lodge's 'enthusiasm' about the first worldwide implementation of the Abu Dhabi Document on Human Fraternity — a document that obeys another principle of Freemasonry in that it presents the diversity of religions as 'willed by God.' One of the main tenets of the Masons is the rejection of any kind of 'dogma' — that is, a belief that must be accepted because it is held to be true."
Sign up for our free e-mail list to see future vaticancatholic.com videos and articles.