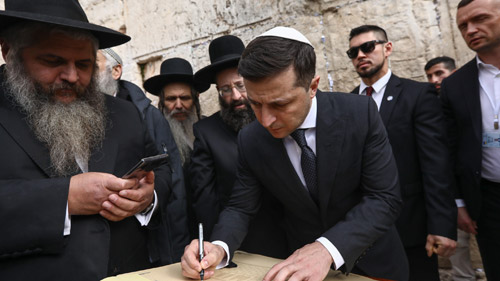 The following information is taken from:
https://en.wikipedia.org/wiki/Volodymyr_Zelenskyy
Volodymyr Oleksandrovych Zelenskyy[a] (Ukrainian: Володимир Олександрович Зеленський, pronounced [woloˈdɪmɪr olekˈsɑndrowɪdʒ zeˈlɛnʲsʲkɪj]; born 25 January 1978) is a Ukrainian politician, former actor and comedian who has been serving as the president of Ukraine since 2019.
Zelenskyy grew up in Kryvyi Rih, a Russian-speaking region in south-east Ukraine.[3] Prior to his acting career, Zelenskyy obtained a degree in law from Kyiv National Economic University. He then pursued comedy and created the production company Kvartal 95, which produces films, cartoons, and TV shows including Servant of the People, in which Zelenskyy played the role of president of Ukraine. The series aired from 2015 to 2019 and was immensely popular. A political party bearing the same name as the television show was created in March 2018 by employees of Kvartal 95.
Zelenskyy announced his candidacy for the 2019 Ukrainian presidential election on the evening of 31 December 2018, alongside the New Year's Eve address of President Petro Poroshenko on 1+1 TV Channel. A political outsider, he had already become one of the frontrunners in opinion polls for the election. He won the election with 73.2% of the vote in the second round, defeating Poroshenko. Identifying as a populist, he has positioned himself as an anti-establishment, anti-corruption figure.
Volodymyr Oleksandrovych Zelenskyy was born to Jewish parents on 25 January 1978 in Kryvyi Rih, then in the Ukrainian SSR.[12][13][14][15] His father, Oleksandr Zelenskyy, is a professor and head of Department of Cybernetics and Computing Hardware at the Kryvyi Rih Institute of Economics; his mother, Rymma Zelenska, used to work as an engineer.[16][17][18] His grandfather, Semyon (Simon) Ivanovych Zelenskyy, served in the Red Army (in the 57th Guards Motor Rifle Division)[19] during World War II; Semyon's father and three brothers were killed in the Holocaust.[20] Prior to starting elementary school, Zelenskyy lived for four years in the Mongolian city of Erdenet, where his father worked.[13] At the age of 16, he passed the Test of English as a Foreign Language and received an education grant to study in Israel, but his father did not allow him to go.[21] He later earned a law degree from the Kryvyi Rih Institute of Economics, then a department of Kyiv National Economic University and now part of Kryvyi Rih National University, but did not go on to work in the legal field.[13][22]
Sign up for our free e-mail list to see future vaticancatholic.com videos and articles.