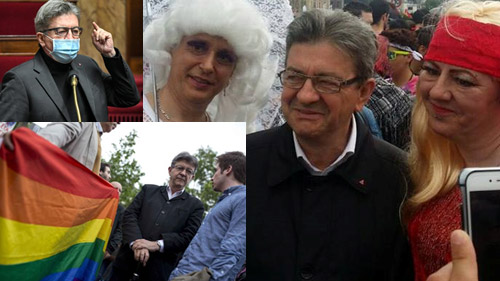 "Socialist politician Jean-Luc Mélenchon has vowed to 'purge' the military if he is elected president after active servicemembers wrote a letter warning that France is on the verge of 'civil war.'
The letter was initially released by an unknown number of serving soldiers but attracted the support of over 250,000 members of the public within 24 hours.
It warns President Macron that 'a civil war is brewing in France and you know it perfectly well' due to the fact that 'hatred for France and its history (is) becoming the norm' thanks to the 'anti-racism' movement and millions of immigrants who have failed to integrate into society.
Far-left politician Mélenchon, who came fourth in the 2017 presidential election, reacted strongly by vowing to uncover and purge any members of the military who signed the letter.
Labeling the issue 'an exceptionally serious situation,' Mélenchon asserted that the military should not allow factions to politicize it.
'If I am elected President of the Republic, these crimes will not go unpunished. I intend to purge the army of the factions,' he said.
Mélenchon also claimed that a 'handful of agitators' had taken the military 'hostage' by writing the letter, although it's almost certain that most serving members would agree with its message.
The socialist also accused Valeurs Actuelles, the outlet that published the letter, of 'provocation' merely for aiding its circulation.

Mélenchon is going to have a difficult job maintaining public support if he is elected as president next year and follows through on his promise given that a recent poll showed that the majority of French citizens agree that the country is heading towards civil war.
The French government is already investigating 20 former generals who wrote an initial letter warning that 'those who despise our country, its traditions, its culture' were engaged in a concerted effort to 'dissolve' France."
Sign up for our free e-mail list to see future vaticancatholic.com videos and articles.