breitbart.com
February 19, 2021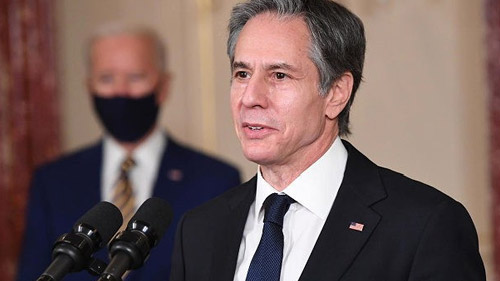 "The Republican Study Committee (RSC) called out the 'weaknesses' of the Biden administration's policy towards communist China this week, in part, by exposing the ties between several political appointees, including Secretary of State Antony Blinken, and Beijing.
Ahead of the push, Breitbart News' Matt Boyle exclusively learned from RSC Chairman Jim Banks (R-IN) that the panel is launching a legislative blitz starting Tuesday against Biden to expose his weaknesses in combating the threat posed by China.
A six-page memo issued by the RSC suggested that the link between the Chinese Communist Party (CCP) and Secretary of State Antony Blinken, a long-time Biden confidant now charged with carrying out the U.S. foreign policy agenda, may prompt a conflict of interest when it comes to confronting China.
In describing the links between several Biden picks for influential political positions and China, the RSC chaired by Rep. Banks noted in its memo:
Blinken was the co-founder of the consulting company WestExec Advisors, which according to the Washington Free Beacon, 'helped U.S. universities raise money from China without running afoul of Pentagon grant requirements.'
Some of the firm's work appeared to have U.S. national security implications.
Among other Biden political appointees who did work for the firm is Director of National Intelligence (DNI) Avril Haines, the head of the U.S. intelligence community, and press secretary Jen Psaki, the RSC noted.
The panel also accused Bidens' U.S. Ambassador to the U.N. Linda Thomas Greenfield, a State Department employee with a 'history of troubling comments praising and welcoming China's role in Africa,' of being cozy with Beijing.
In early December 2020, the Washington Free Beacon reported that the Washington, DC-based WestExec firm scrubbed details of its work on China from its website...
In early February, Blinken announced that the U.S. is rejoining the United Nations Human Rights Council, known to permit violators such as China, Russia, Venezuela, and Cuba, to gain representation.
'A number of its members have used the council to legitimize their terrible human rights records,' the RSC pointed out."
Sign up for our free e-mail list to see future vaticancatholic.com videos and articles.