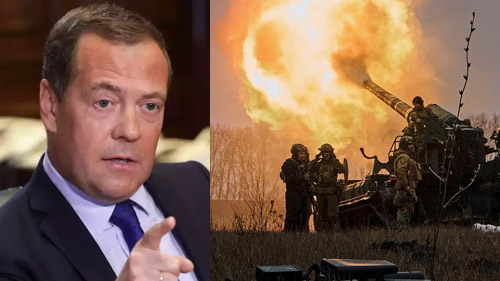 Located only 200 km from NATO-members Finland and Norway, Olenya Air Base is closely watched by military analysts. The 3,500 m runway normally serves a small fleet of elderly Tu-22M supersonic bombers and a few An-12 military transport planes.
Last autumn, however, the role of the air base as a forward deployment field for long-range aviation was activated...
The strategic bombers now deployed inside the Arctic Circle were previously based at Engels near the city of Saratov. Located only 600 km from the border with Ukraine, the air base proved vulnerable when two of the TU-95 planes were damaged after what was believed to be a drone attack last December...
Both the Tu-160 and Tu-95 are capable of carrying nuclear warheads. Russia's central storage for nuclear warheads, Bolshoye Ramozero, is 10 km from Olenya Air Base.
Why it matters: Security Council Deputy Chairman and former president, Dmitry Medvedev, is assigned by the Kremlin to dangle nuclear threats. His rhetoric has worsened from month to month as Russia is losing ground in Ukraine. "The defeat of a nuclear power in a conventional war may trigger a nuclear war," Medvedev recently wrote on his Telegram channel.
Sign up for our free e-mail list to see future vaticancatholic.com videos and articles.