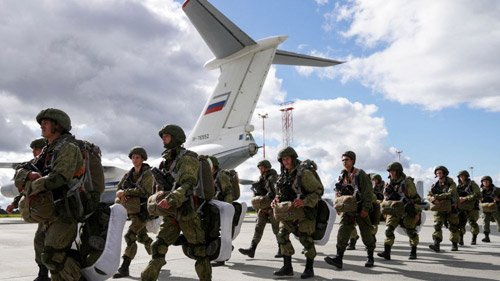 Russian President Vladimir Putin signed a decree at the end of March stating his annual draft goals for 2022. From April to July, Putin plans to conscript up to 134,000 young men and women into the military, as the Russians strategize the best way to move forward into the Donbas region of Ukraine. These conscripts are between the ages of 18 and 27, and will likely be used in Russia's mainland, so that thousands more experienced soldiers can be deployed into Ukraine. Putin is planning for a much longer duration war, and has the military might to finish their missions in Ukraine...
The official story on Russia's invasion is murky. Is Russia failing to achieve their goals in Ukraine, as the Western media insists? NATO officials estimate that Russia has lost between 7,000 and 15,000 soldiers in the first month of fighting. Some media outlets suggest Russia has lost upward of 17,000 soldiers. Russia's Ministry of Defense estimates that Russia has lost closer to 1,351 soldiers, with 3,825 wounded. With over a hundred thousand new recruits coming into the ranks this year, Russia should be fully prepared for a second wave of fighting through the Spring and Summer months.
According to official reports, Russian forces are allegedly withdrawing from Ukraine's capital city of Kiev. Russia has allegedly lost some of the territory and has had to protect troops by using longer range missiles. But the ceasefires in the region might be short-lived. As Russia prepares to draft tens of thousands of new soldiers in the coming months, they are more than ready to fight through a new wave of escalations in Eastern Ukraine.
Sign up for our free e-mail list to see future vaticancatholic.com videos and articles.