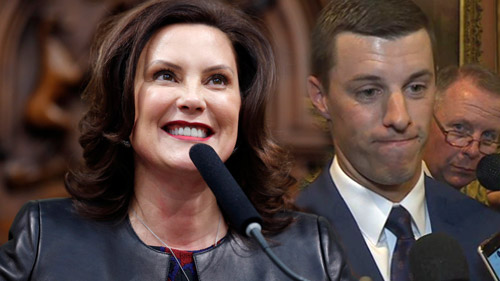 The Republican leader in the Michigan House of Representatives ended talk of impeachment proceedings against Gov. Gretchen Whitmer on Wednesday amid an ongoing debate about the governor's authority to issue coronavirus restrictions.
Earlier, three Republican members of the state House introduced a resolution for impeachment against Whitmer, charging that her executive orders were unconstitutional and accusing the governor of "using state resources to reward political allies."
"The four articles of impeachment against Gov. Whitmer include failing to respect the separation of powers by exercising power granted to the legislative branch, violating the constitutional rights of the people of Michigan, issuing executive orders against the interests of the people and state, and using state resources to reward political allies," he wrote.
But according to House Speaker Lee Chatfield, a Republican, impeachment proceedings will not advance in the House while he is the leader.
"It's no secret that I have disagreed with this governor. I have debated a lot with this governor. I have many differences with how the governor has handled COVID. We have a time and place to deal with differences — that's at the ballot box. The voters of the state of Michigan will have a chance to choose in 2022," Chatfield said in a statement reported by WOOD-TV.
Sign up for our free e-mail list to see future vaticancatholic.com videos and articles.