outkick.com
February 23, 2021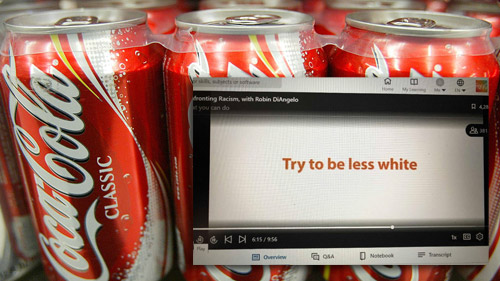 Friday, images leaked online from an alleged internal whistleblower at Coca-Cola showing that the company made its employees complete a racist training program with the goal to be, wait for it, "less white."
🚨🚨🚨 BREAKING: Coca-Cola is forcing employees to complete online training telling them to "try to be less white."

These images are from an internal whistleblower: pic.twitter.com/gRi4N20esZ

— Karlyn supports banning critical race theory in NH (@DrKarlynB) February 19, 2021
OutKick has reached out to Coca-Cola for confirmation and comment on the reports. OutKick will update this story if and when Coke returns our emails and calls. Warning to the readers: no comments and ignored requests are, in fact, comments. Powerful comments.
Unfortunately, a major company stooping to this level wouldn't be surprising. As I've warned for months, our country is inching toward a place where high-ranking executives see citizens only by their skin color, individuality be damned. What's worse, it's spreading rapidly through our country's schools (many over Zoom, of course). This week, a disgraceful New York school sent parents a "white identities" chart to find their level of whiteness. If they are too white, they may have to apologize and self-punish.
This is education in 2021:
This is happening all over, in schools, in offices, in media, in Hollywood, and of course, in Silicon Valley.
I mean, where is Candace Owens wrong?
If a corporate company sent around a training kit instructing black people how to "be less black", the world would implode and lawsuits would follow.

I genuinely hope these employees sue @CocaCola for blatant racism and discrimination. https://t.co/07OPZouEcV

— Candace Owens (@RealCandaceO) February 19, 2021
How long until "your level of whiteness must be X" shows up on public job postings?
Sign up for our free e-mail list to see future vaticancatholic.com videos and articles.