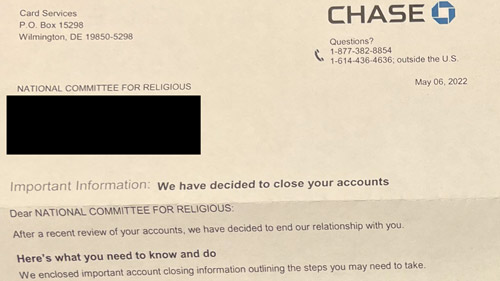 The chairman of faith-based nonprofit National Committee for Religious Freedom (NCRF) last week said major banking institution JPMorgan Chase and Co. cut ties with his organization without reason, then allegedly offered to consider reopening the account if he provided them with the nonprofit's donor list and the political candidates they support.
In an October 6 op-ed for the Washington Examiner, NCRF chairman and former Ambassador-At-Large for Religious Freedom Sam Brownback said he and NCRF executive director decided to open an account at JPMorgan Chase "because of its national footprint and the multigenerational banking relationships our team had with the bank."
While Brownback, a former governor of Kansas who also served in state and federal legislature, said the experience with Chase "was initially very positive," that positivity came to an abrupt halt when the bank allegedly decided to scuttle the religious freedom advocacy group's account just three weeks after it was opened.
According to Brownback, NCRF "received a letter notifying us that Chase had decided to 'end their relationship'" with the organization, and "actually closed our account before we received the letter."
"To this day, the NCRF does not have a clear reason as to why our account was closed after only three weeks," he said. "We certainly hadn't made any transactions in that short amount of time that would have triggered any regulatory red flags."...

At a loss to understand why the religious freedom organization was canceled, NCRF spoke with several employees of the bank who told them the decision was handed down by the "corporate office," and was final and irrevocable.
Brownback said he was "shocked and surprised" when the bank allegedly suggested it might reopen the account if provided with details about the nonprofit's donors and preferred political candidates.
According to the NCRF chairman, a Chase representative "eventually reached out to our executive director and informed him that it would be willing to reconsider doing business with the NCRF if we would provide our donor list, a list of political candidates we intended to support, and a full explanation of the criteria by which we would endorse and support those candidates."
Calling the alleged offer "entirely inappropriate," Brownback wondered whether the bank asks "every customer what politicians they support and why before deciding whether or not to accept them as a customer?"
JPMorgan Chase did not immediately respond to LifeSiteNews' request for comment.
In his op-ed, the nonprofit chairman said he believes his organization isn't the first or only one to face "sudden and unexplained account closures" over its religious and political perspective.
"Religious institutions, houses of worship, and people of all faiths should be greatly concerned that their business, credit, or even personal or private bank accounts could likewise be terminated for any or no reason at all," he said.
JPMorgan Bank has recently sparked criticism for its decision to cut ties with controversial pro-life celebrity Kanye West. It's unclear what factors ultimately led the bank to shutter West's account.
Sign up for our free e-mail list to see future vaticancatholic.com videos and articles.