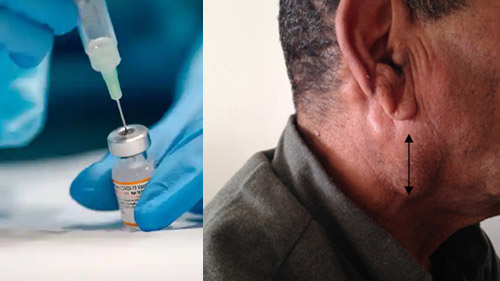 "An anonymous radiologist reports a shocking observation in 2021. This radiologist has witnessed a 360-fold increase in unexplained adenopathy following covid-19 vaccinations. Adenopathy is the medical term for swollen glands or swollen lymph nodes (lymphadenopathy). Adenopathy is not a specific disease, but it is an important symptom for some underlying condition. Doctors may not be adequately trained to identify when vaccines are the cause of the adenopathy.
The radiologist is speaking out with anonymity because he fears he will lose his job for reporting these vaccine-related observations. In his practice, the radiologist sees about one case of unexplained adenopathy every six months. However, once the covid-19 vaccines were rolled out, the radiologist has seen two to three cases of unexplained adenopathy per day! This is a 360-fold increase of a rare condition, and this is his most conservative estimate.
The human body contains approximately six hundred lymph nodes. These lymph nodes carry lymph and are an integral part of the human 'immune system.' The fluids that pass through the body's tissues are first filtered through the lymph nodes. The lymphatic system is responsible for providing white blood cells in order to help fight off infectious bacteria and viruses. If the lymph nodes and glands are swollen, it often indicates the body is fighting off an infection, like a common cold. Swollen lymph nodes are often accompanied by runny nose, sore throat, earache, fever and tiredness."
Sign up for our free e-mail list to see future vaticancatholic.com videos and articles.