reuters.com
February 3, 2020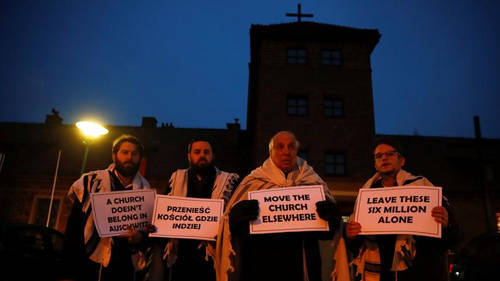 "Four U.S. rabbis led by New York's Avi Weiss gathered on Sunday in front of a church next to the Nazi German death camp at Birkenau in Poland arguing for its removal...
The rabbis argue the church should not be on the site of one of the largest Jewish cemeteries in the world and it violates a 1987 agreement between European cardinals and Jewish leaders that there will not be any permanent Catholic place of worship on the site of the Auschwitz or Birkenau camps.
'This (the church) in my mind is the greatest desecration of the history of the Holocaust,' Weiss said.
'Beneath this ground is a cemetery ... their bloods are crying out from the ground demanding justice.'...
Weiss led a long and ultimately successful campaign in the 1980s to secure the removal of a Carmelite convent from outside the Auschwitz grounds."
Sign up for our free e-mail list to see future vaticancatholic.com videos and articles.