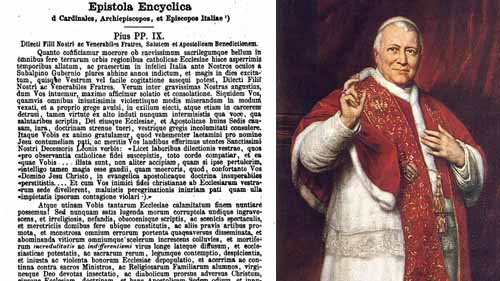 Pope Pius IX proceeded to speak about the invincibly ignorant again seven years later in his encyclical Quanto Conficiamur Moerore, August 10, 1863. Quanto Conficiamur Moerore does not meet the requirements for infallibility; it is addressed only to the cardinals and bishops of Italy.[1]
Pope Pius IX, Quanto Conficiamur Moerore: "And here, beloved Sons and Venerable Brothers, We should mention again and censure a very grave error in which some Catholics are unhappily engaged, who believe that men living in error, and separated from the true faith and from Catholic unity, can attain eternal life.  Indeed, this is certainly quite contrary to Catholic teaching.  It is known to us and to you that they who labor in invincible ignorance of our most holy religion AND WHO ZEALOUSLY KEEPING THE NATURAL LAW AND ITS PRECEPTS ENGRAVED IN THE HEARTS OF ALL BY GOD, AND BEING READY TO OBEY GOD, LIVE AN HONEST AND UPRIGHT LIFE, can, by the OPERATING POWER OF DIVINE LIGHT AND GRACE, attain eternal life since God...will by no means suffer anyone to be punished with eternal torment who has not the guilt of deliberate sin."[2]
First, notice that Pope Pius IX specifically condemns the idea that a man "living in error and separated from the true Faith" can be saved.  What, may I ask, is the idea of salvation for the "invincibly ignorant"?  Why, of course, it is the idea that a man living in error and separated from the true Faith can be saved.  So, the very concept of salvation for the "invincibly ignorant" is condemned as QUITE CONTRARY TO CATHOLIC TEACHING in this very document of Pope Pius IX. 
Second, notice again that Pope Pius IX does not say anywhere that the invincibly ignorant can be saved where they are.  Rather, he is reiterating that the ignorant, if they cooperate with God's grace, keep the natural law and respond to God's call, they can by God's "operating power of divine light and grace" [being enlightened by the truth of the Gospel] attain eternal life, since God will certainly bring all of his elect to the knowledge of the truth and into the Church by baptism.  According to the specific definition of Sacred Scripture, "divine light" is the Gospel truth of Jesus Christ (the Catholic Faith) which removes the ignorant from darkness.
Ephesians 5:8 "For you were heretofore darkness, but now light in the Lord.  Walk then as children of the light."

1 Thess. 5:4-5 "But you, brethren [believers], are not in darkness… For all you are the children of the light."    

Colossians 1:12-13:  "Giving thanks to God the Father, who hath made us worthy to be partakers of the lot of the saints in light: Who hath delivered us from the power of darkness, and hath translated us into the kingdom of the Son of His love."

1 Peter 2:9: "But you are a chosen generation… a purchased people: that you may declare his virtues, who hath called you out of darkness into His marvelous light."

2 Corinthians 4:3-4:  "And if our gospel be hid, it is hid to them that are lost, In whom the god of this world [Satan] hath blinded the minds of unbelievers, that the light of the gospel of the glory of Christ, who is the image of God, should not shine unto them." 

2 Timothy 1:10: "But is now made manifest by the illumination of our Savior Jesus Christ, who hath destroyed death, and hath brought to light life and incorruption by the Gospel."

Pope Pius IX, Vatican I (+1870): "… no one can 'assent to the preaching of the Gospel,' as he must to attain salvation, without the illumination and inspiration of the Holy Spirit, who gives to all a sweetness in consenting to and believing the truth."[3]
So, we must not interpret Pius IX's words in Quanto Conficiamur Moerore about the good-willed ignorant being saved by receiving "divine light and grace" contrary to their clear scriptural and Traditional meaning, which is that divine light and grace is received by hearing of the Gospel, believing it and being baptized.  Thus, in Quanto Conficiamur Moerore, Pius IX is saying that the good-willed, sincere person who is ignorant of the Faith will be "illuminated" by receiving the "divine light" (hearing the Gospel) and will enter the Catholic Church so that he can be saved.
I realize that Pope Pius IX was not nearly as clear as he could have been in the second half of Quanto Conficiamur Moerore.  The heretics have had a field day with it, because they think that they can exploit its wording to favor their heresy that there is salvation outside the Church.  If Pope Pius IX had repeated in a strong way the previous definitions of the popes, without any ambiguous language, he would have avoided the danger of modernists misinterpreting his words.  This is a shame because almost all of his statements on this topic do very clearly affirm Church dogma without any ambiguity that heretics can jump on.
Pope Pius IX, Nostis et Nobiscum (# 10), Dec. 8, 1849: "In particular, ensure that the faithful are deeply and thoroughly convinced of the truth of the doctrine that the Catholic faith is necessary for attaining salvation. (This doctrine, received from Christ and emphasized by the Fathers and Councils, is also contained in the formulae of the profession of faith used by Latin, Greek and Oriental Catholics)."[4]

Pope Pius IX, Ubi primum (# 10), June 17, 1847: "For 'there is one universal Church outside of which no one at all is saved; it contains regular and secular prelates along with those under their jurisdiction, who all profess one Lord, one faith and one baptism."[5]

Pope Pius IX- Syllabus of Modern Errors- Proposition 16, Dec. 8, 1854: "Man may, in the observance of any religion whatever, find the way of eternal salvation, and arrive at eternal salvation." [6] – Condemned
Notice again that the concept of salvation for the "invincibly ignorant" is condemned here.  The concept of salvation for the "invincibly ignorant," as it is held by almost everyone who holds it today, is that some men – including those who observe non-Catholic religions – can find and arrive at salvation in these religions because they are "without fault of their own."  But this is heretical and condemned by Pius IX's own Syllabus of Errors above.   
Fr. Michael Muller, C.SS.R. was a Catholic priest who lived during the time of Pope Pius IX.  He wrote a famous book entitled The Catholic Dogma in which he defended the Church's teaching that a person who is "invincibly ignorant" of the Faith cannot be saved.  He also defended the true meaning of Pope Pius IX's teaching on this topic.
Fr. Michael Muller, C.SS.R., The Catholic Dogma, pp. 217-218, 1888: "Inculpable or invincible ignorance has never been and will never be a means of salvation.  To be saved, it is necessary to be justified, or to be in the state of grace.  In order to obtain sanctifying grace, it is necessary to have the proper dispositions for justification; that is, true divine faith in at least the necessary truths of salvation, confident hope in the divine Savior, sincere sorrow for sin, together with the firm purpose of doing all that God has commanded, etc.  Now, these supernatural acts of faith, hope, charity, contrition, etc., which prepare the soul for receiving sanctifying grace, can never be supplied by invincible ignorance; and if invincible ignorance cannot supply the preparation for receiving sanctifying grace, much less can it bestow sanctifying grace itself.  'Invincible ignorance,' says St. Thomas, 'is a punishment for sin.' (De, Infid. Q. x., art. 1).

"It is, then, a curse, but not a blessing or a means of salvation… Hence Pius IX said 'that, were a man to be invincibly ignorant of the true religion, such invincible ignorance would not be sinful before God; that, if such a person should observe the precepts of the Natural Law and do the will of God to the best of his knowledge, God, in his infinite mercy, may enlighten him so as to obtain eternal life; for, the Lord, who knows the heart and the thoughts of man will, in his infinite goodness, not suffer anyone to be lost forever without his own fault.'  Almighty God, who is just condemns no one without his fault, puts, therefore, such souls as are in invincible ignorance of the truths of salvation, in the way of salvation, either by natural or supernatural means."[7] 
In these well-written lines we see Catholic dogma affirmed.  Invincible ignorance can never save a man; those who are invincibly ignorant, if they strive to do their best and are of good will, will be enlightened by God of the Catholic Faith "either by natural or supernatural means"; Fr. Muller confirms that Pope Pius IX was not teaching the heresy that invincible ignorance justifies and saves, but that a soul in such a state – who is of good will and follows the natural law – will be enlightened by God about the Catholic Faith so that he can be saved.  In fact, Fr. Muller's rendering of Pius IX's words in Quanto Conficiamur Moerore show more clearly the pope's actual meaning. 
Though it's clear that these documents of Pope Pius IX did not teach that "invincible ignorance" could save someone, as Fr. Muller confirms, this is not the main issue in regard to this extremely important topic of the necessity of the Catholic Church for salvation.  The main issue concerns what the Church has infallibly taught, not what Pope Pius IX fallibly taught.  Both of these documents were fallible, not dogmatic, and could have contained error!  The heretics who believe in salvation outside the Church love to dump all of the dogmatic teaching of the Church on this issue and focus ad nauseam on what they think Pope Pius IX fallibly taught.  They ignore all of the dogmatic definitions (quoted already in this document), while intent on trying to exploit two fallible documents from Pope Pius IX.  They pit their own misinterpretation of a few lines in a speech of Pius IX to the cardinals and in a letter to the clergy of Italy against the dogmatic definitions of the Fourth Lateran Council, Pope Boniface VIII and the Council of Florence!  This is absolutely absurd and totally dishonest.  One priest expressed it well:
"Just imagine, my dear listeners, the whole secret of salvation being missed in the Gospels, in the teachings of the Apostles, in the protestations of the Saints, in the defined teachings of the Popes, in all the prayers and the liturgies of the Church – and imagine it suddenly coming clear in one or two carelessly worded sentences in an encyclical of Pope Pius IX, on which the Liberals base their teaching that there is salvation outside the Church."[8]
The truth is that the liberals recognize what is being said here; they realize that even if Pope Pius IX did teach what they claim (which he didn't), his statements were not infallible and would carry no weight when compared with the dogmatic definitions on the topic.  But they don't care about that, because, as one priest who believes in salvation outside the Church told me: "I like what Pius IX said."  Yes, he likes what he thinks Pius IX said, and he doesn't like what God has said via the Church's infallible statements.
That pretty much sums it up: those who obstinately insist on salvation for the "invincibly ignorant" while ignoring these facts, and obstinately quote Pius IX to attempt to prove it, simply reject dogma, in favor of their own contrived interpretations of fallible statements, interpretations which lead them to conclusions which were explicitly condemned by Pope Pius IX himself.  Thus, these people "choose" their heretical ideas over Catholic dogma – heresy, in the Greek, means "choice" – and in so doing they demonstrate bad will and actually mock God.  Such persons are devoid of the true Faith; they don't possess the gift of acceptance of the supernatural revelation of God; they assert that Jesus Christ is not important enough that everyone above reason must know Him to be saved; and they want the truth their own way.
St. John Chrysostom (+390): "So the Machabees are honored in that they preferred to die rather than betray the Law… Then [in the Old Law] it sufficed to salvation to know God alone.  Now it is no longer so; the knowledge of Christ is necessary to salvation…"[9]
Endnotes:
---
Sign up for our free e-mail list to see future vaticancatholic.com videos and articles.