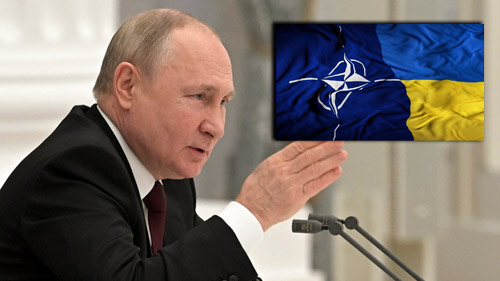 On Feb. 8, in a jarring answer to a question from the media, Russian President Vladimir Putin said allowing Ukraine to join NATO would increase the prospects of a Russia-NATO conflict that could turn nuclear. Putin's assertion, made in the context of a complicated hypothetical about an unlikely Ukrainian attempt to take Crimea back from Russia, came during a joint press conference with the President of France, Emmanuel Macron.
With over 100,000 Russian troops amassed at Ukraine's border, the conference was originally called to discuss ways to de-escalate the situation. However, about 45 minutes into the meeting, Putin made it clear there were some lines that could not be crossed without severe and possibly even nuclear consequences.
"[T]here will be no winners," he said, describing a hypothetical future in which Ukraine had joined NATO and then attempted to invade Russian-occupied Crimea, "and you will find yourself drawn into this conflict against your will. You will be fulfilling Article 5 in a heartbeat, even before you know it."
Article 5 of NATO's founding treaty says that any attack on a NATO member is an attack on all members. This principle of collective defense, NATO says, is at the heart of its treaty. The only time the article has been invoked was on September 11, 2001, when terrorists attacked the United States.
"Do you realize that if Ukraine joins NATO and decides to take Crimea back through military means, the European countries will automatically get drawn into a military conflict with Russia?" Putin said.
Sign up for our free e-mail list to see future vaticancatholic.com videos and articles.