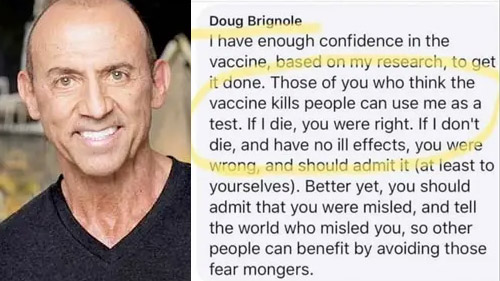 A professional bodybuilder who trusted the Covid vaccine enough to challenge anti-vax conspiracists to use him as a case study suddenly died last week.
Author and veteran competitive bodybuilder Doug Brignole, 62, reportedly passed away last Thursday, with not much else known other than the fact he was extremely fit and healthy prior to his death and was evidently preparing to compete in the 2022 AU Mr. Universe competition in Las Vegas this week.
Following his untimely passing, netizens discovered Brignole was gung-ho about the Covid vaccine, so much so that at one point he encouraged anti-vaxxers to use him as a test case to determine whether the experimental mRNA shot is safe.
"I have enough confidence in the vaccine, based on my research, to get it done," Brignole once wrote in a Facebook comment.
"Those of you who think the vaccine kills people can use me as a test. If I die, you were right."
"If I don't die, and have no ill effects, you were wrong, and should admit it (at least to yourselves)," he added. "Better yet, you should admit that you were misled, and tell the world who misled you, so other people can benefit by avoiding those fearmongers."
A Facebook post by Brignole in April 2021 also showed him receiving his second jab at a mobile vaccine clinic in April 2021, again promoting the vaccine as safe and effective, despite experiencing a local adverse reaction...
It's unclear whether he received subsequent booster jabs, but considering his previous support it can be speculatively inferred...
Brignole isn't the first bodybuilder to die following vaccination. In October 2021, Infowars reported on the unexpected death of 28-year-old FedEx driver and bodybuilder Jake Kazmarek who passed away four days after receiving his second dose of Moderna's experimental Covid-19 vaccine.
Sign up for our free e-mail list to see future vaticancatholic.com videos and articles.