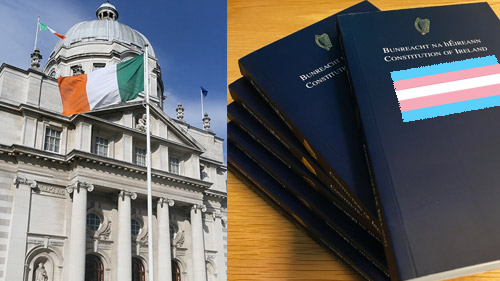 "Ireland's pro-transgenderism government is now looking to erase the word 'woman' from the country's constitution, the leader of a populist party in the country has claimed.
Hermann Kelly, the leader of the Irish Freedom Party, has told Breitbart Europe that the pro-transgenderism Irish government is now aiming to have the word 'woman' stripped from the Irish constitution in pursuit of its progressive aims.
Authorities in the country have spent the last week pushing for 'transgender issues' to be taught in the country's schools — despite one of the country's largest school associations coming out to rebuke the plan as not being backed by 'scientific or medical consensus'.
Leo Varadkar, Ireland's first gay and first ethnic minority prime minister, or taoiseach, has now announced that the country will hold a referendum in November this year on axing part of the country's constitution that gives special protections to a woman's right to a home life, arguing that this amounts to women being 'discriminated against' due to their historic role as carers.
However, Kelly instead suggests that the referendum — the text for which has not yet been agreed upon — is not about protecting women, but about removing gendered language from the constitution.
'It's about gender confusion, and erasing the word 'woman' from the Constitution,' the party leader told Breitbart Europe, with the passage protecting a woman's place in the home indeed being the only time the word is used in the current draft of the country's central legal document.
Kelly went on to say that state authorities were looking to undermine the idea that only women can bear children, saying that the government needed to recognise the biological reality that men and women are different.
'It's woke nonsense,' he said. 'We need to put biology and family before transgenderism and erasing the word 'woman'.'
By contrast, Ireland's NGOs and political elite have largely welcomed the coming referendum, with one pro-transgender group calling the current language used in the document 'outdated and sexist'.
Officials have meanwhile continued their crusade to see transgenderism taught in the country's schools, despite encountering significant resistance from religious groups, parents and one of Ireland's largest school associations."
Sign up for our free e-mail list to see future vaticancatholic.com videos and articles.