lifesitenews.com
February 13, 2020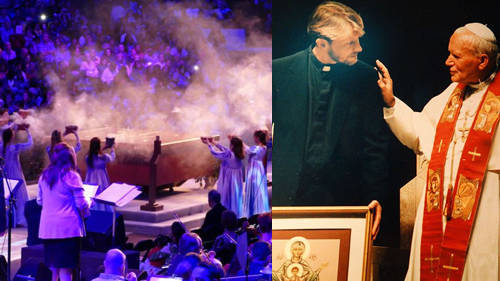 "From February 21–23, 2020, during the annual Los Angeles Religious Education Congress (LA REC), the artwork of gay iconographer William Hart McNichols will be displayed in the 'Arena Lobby' at the Anaheim Convention Center. McNichols is a self-outed former-Jesuit gay priest. According to Kittredge Cherry, author at the LGBT spirituality website QSpirit, which often features McNichols' work, '... McNichols is a New Mexico artist and Roman Catholic priest whose gay-positive icons have caused controversy.'
Through his official social media accounts, Jesuit James Martin (who has spoken on the LGBT issue at the LA REC from 2018–2020) has repeatedly praised and recommended the work of McNichols. In a Facebook post from Martin, dated January 23, 2018, he announced that a then upcoming book would feature the work of McNichols who paints in a style reminiscent of Byzantine icons. Martin wrote:
Dear friends: I thought I might start recommending some new books that you might enjoy…Here's a new one about someone whose work many people on this page enjoy: the Rev. William Hart McNichols, the great iconographer. A new book, 'Image to Insight,' collects many of his most beautiful icons and pairs them with reflections by the philosopher John Dadosky, along with a foreword by Mirabai Starr. If you're a fan of Father Bill's amazing art I'll bet you'll enjoy this book, which is published by the University of New Mexico Press.
(In a December 2, 2019 Facebook post, Martin described McNichols as 'my dear friend.')"
Sign up for our free e-mail list to see future vaticancatholic.com videos and articles.