churchmilitant.com
December 18, 2019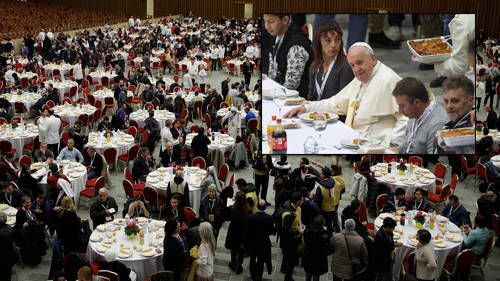 "Pope Francis' annual meal with the poor in St. Peter's Basilica took place again last month, gathering 1,500 people in the Paul VI Hall during celebrations marking the Third Day of the Poor. For the first time since the Sunday lunch with the poor was established in 2016, a meal observant of other religious restrictions was served: The menu offered a bolognese lasagna without pork (an essential ingredient in the centuries-old recipe). Wine was absent from the table as well.
The adjustment was announced by Msgr. Rino Fisichella, president of the Pontifical Council for Promoting the New Evangelization: 'There's no pork in here, so all guests can eat with no problems.' According to newspaper Il Giornale, this was a 'precise choice desired by Pope Francis.'...
The Pope's inspiration was his Italian counterpart Cdl. Matteo Maria Zuppi, archbishop of Bologna, who last October, on the feast of St. Petronius, patron saint of Bologna, made headlines for the archdiocese's choice to offer the public a Muslim-friendly version of tortellini, a traditional bolognese pasta filled with raw prosciutto, mortadella (a pork-based bolognese luncheon meat) and pork loin. As an alternative to the classic recipe, the archdiocese offered a chicken breast filling option, an unheard-of modification.
Several outlets branded the lunch a 'halal meal,' with The Daily Muslim describing it as follows: 'Pope and Islam dialogue with lasagna: Pope Francis served pork-free sauce lasagna … for those who follow the Koran. A rigorously halal menu was provided in the Paul VI Hall in the Vatican.'"
Sign up for our free e-mail list to see future vaticancatholic.com videos and articles.