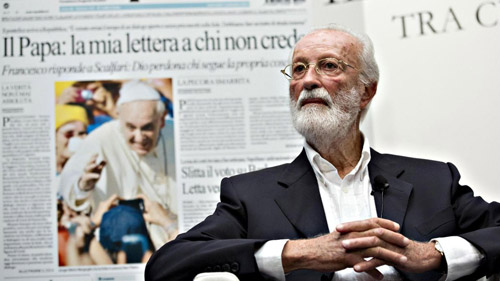 Italian journalist Eugenio Scalfari, the favorite interviewer of Pope Francis, died earlier this month, and the pontiff released a lengthy statement praising the professed atheist and former leftist politician whose interviews with Francis repeatedly sparked widespread controversy.
Catholic journalist Diane Montagna on Friday posted a translation of the Pope's statement, originally published in liberal, anti-clerical Italian newspaper la Repubblica, which Scalfari founded.
"I am saddened by the passing of Eugenio Scalfari," Pope Francis wrote. "In these painful hours, I am close to his family, his loved ones, and all those who knew him and worked with him. He was for me a faithful friend."...
Scalfari's numerous interviews with Pope Francis, published in la Repubblica, were infamous for causing international scandals, as in 2018, when the atheist journalist quoted Francis as saying "Hell doesn't exist" and that sinful souls are annihilated, which is the heresy of Annihilationism...
According to Scalfari, Pope Francis had allegedly affirmed to him on several previous occasions that unrepentant sinners would be annihilated and reportedly told him in 2017 that neither Heaven nor Purgatory exist.
"In this state of affairs, it is in any case highly credible that Francis truly said such things to Scalfari, seeing that he reported not once but four times in a row without the pope feeling the need to clarify anything, in each subsequent meeting with his friend," veteran Vatican reporter Sandro Magister commented in 2018.
Sign up for our free e-mail list to see future vaticancatholic.com videos and articles.