americamagazine.org
May 4, 2020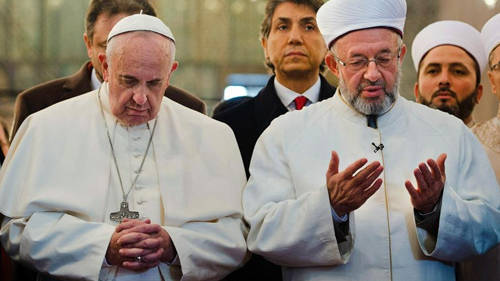 "Pope Francis calls on believers of all religions to pray together on May 14 to ask God to rid the world of the pandemic and asks that the vaccines to be made available to all infected persons.
Pope Francis has endorsed the call to 'the believers of all the religions to unite together spiritually on May 14 in a day of prayer and fasting, to implore God to help humanity overcome the coronavirus pandemic.'
He also encouraged international cooperation to respond to the crisis, and emphasized the importance that scientific efforts to find a vaccine be put together in 'a transparent and disinterested way' and that 'the essential technologies be made universally available' so that every infected person may be able to receive the medical care needed.
He focused on these two issues when he addressed a virtual global audience by Vatican Media from the library of the Vatican's Apostolic Palace at midday on Sunday, May 3.
In his address, he repeated the call for an interreligious day of prayer saying, 'Remember, May 14, all believers together, believers of the different [religious] traditions, to pray, to fast, and to do works of charity.'
The proposal for this worldwide day of prayer came originally from the High Committee for Human Fraternity, which was established in September 2019 as a concrete response to the Document on Human Fraternity for World Peace and Living Together signed by Pope Francis and Sheikh Ahmed el-Tayeb, Grand Imam of Al-Azhar, during the pope's visit to the United Arab Emirates in February 2019."
Sign up for our free e-mail list to see future vaticancatholic.com videos and articles.