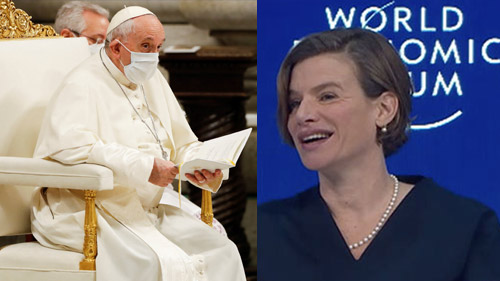 "The Pontifical Academy for Life on Saturday announced Pope Francis' appointment of pro-abortion, World Economic Forum-linked economist Mariana Mazzucato as one of its new 'Ordinary Academicians.'
Mazzucato, a self-described 'atheist' and professor of economics at University College London (UCL), was first announced as one of the PAL's new appointees in an October 15 press release...
While the PAL says this appointment is part of its larger goal of fostering an 'ethical' and 'Gospel-based' reflection to 'promote human life always and everywhere,' in addition to being a speaker at the WEF – the globalist group behind the socialist, anti-Christian 'Great Reset' agenda – Mazzucato is also enthusiastically pro-abortion, in direct contradiction to the infallible and unchangeable teaching of the Catholic Church.
In June, following the United States Supreme Court's overturning of the landmark 1973 pro-abortion Roe v. Wade decision, Mazzucato tweeted 'So good!' in response to a pro-abortion commentator making anti-Christian statements disparaging the Bible while condemning the court's pro-life ruling.

In 2016, Mazzucato also tweeted favorably about Pope Francis' support of the so-called 'climate change' agenda, saying, 'As an atheist, never thought I would love a Pope this much.'
Appointing people who hold positions in direct opposition to the Catholic faith has become a trend in the Vatican during Francis' pontificate.
Last year, Francis appointed pro-abortion population control activist Jeffrey Sachs to the Pontifical Academy of Social Sciences, and in 2017, appointed a pro-abortion Anglican minister to the PAL.
Outside of his appointments of non-Catholics to official positions in Rome, Francis also has a history of appointing heterodox prelates to high-ranking positions of authority within the Church's clerical hierarchy.
In September, Francis appointed pro-LGBT Portuguese Cardinal José Tolentino de Mendonça as Prefect of the Dicastery for Culture and Education, just months after his June decision to promote a collection of pro-LGBT and anti-Latin Mass cardinals to the Congregation for Divine Worship and the Discipline of the Sacraments."
Sign up for our free e-mail list to see future vaticancatholic.com videos and articles.