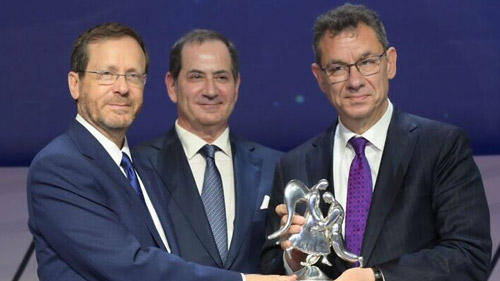 "Albert Bourla, the CEO and chairman of Pfizer, accepted this year's annual $1 million Genesis Prize in Jerusalem on Wednesday evening, announcing that he would donate the funds towards a planned Holocaust Museum in Thessaloniki, Greece, where he was born...
The annual prize, awarded since 2014, is given to 'extraordinary individuals for their outstanding professional achievement, contribution to humanity, and commitment to Jewish values.'
At a glittering ceremony attended by around 900 guests, including President Isaac Herzog and his wife, Michal, Bourla recalled his parents, among just 2,000 survivors of the Holocaust among a prewar Jewish population in the city of 50,000...
Noting his pride in being both a Jew and a citizen of Greece, Bourla thanked Israel, which he first visited 45 years ago, for providing his company with extensive data about the safety of the vaccine."
Sign up for our free e-mail list to see future vaticancatholic.com videos and articles.