theintercept.com
June 10, 2020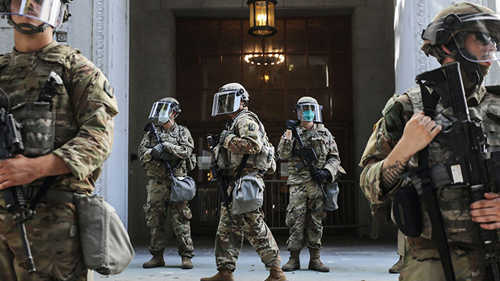 IN THE FACE of protests composed largely of young people, the presence of America's military on the streets of major cities has been a controversial development. But this isn't the first time that Generation Z — those born after 1996 — has popped up on the Pentagon's radar.
Documents obtained by The Intercept via the Freedom of Information Act reveal that a Pentagon war game, called the 2018 Joint Land, Air and Sea Strategic Special Program, or JLASS, offered a scenario in which members of Generation Z, driven by malaise and discontent, launch a "Zbellion" in America in the mid-2020s...
According to the scenario, many members of Gen Z — psychologically scarred in their youth by 9/11 and the Great Recession, crushed by college debt, and disenchanted with their employment options — have given up on their hopes for a good life and believe the system is rigged against them. Here's how the origins of the uprising are described:
Both the September 11 terrorist attacks and the Great Recession greatly influenced the attitudes of this generation in the United states, and resulted in a feeling of unsettlement and insecurity among Gen Z. Although Millennials experienced these events during their coming of age, Gen Z lived through them as part of their childhood, affecting their realism and world view … many found themselves stuck with excessive college debt when they discovered employment options did not meet their expectations. Gen Z are often described as seeking independence and opportunity but are also among the least likely to believe there is such a thing as the "American Dream," and that the "system is rigged" against them...
In early 2025, a cadre of these disaffected Zoomers launch a protest movement. Beginning in "parks, rallies, protests, and coffee shops" — first in Seattle; then New York City; Washington, D.C.; Los Angeles; Las Vegas; and Austin — a group known as Zbellion begins a "global cyber campaign to expose injustice and corruption and to support causes it deem[s] beneficial."
Sign up for our free e-mail list to see future vaticancatholic.com videos and articles.