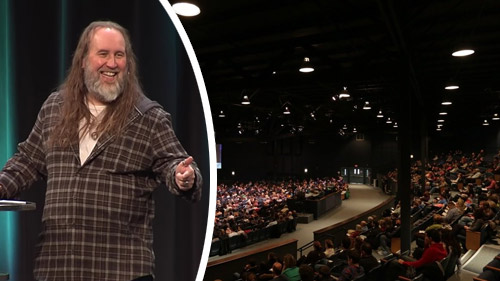 "One of Canada's largest multi-site churches has placed its lead pastor on leave after sexual misconduct allegations were made against him.
The Meeting House, an Anabaptist megachurch in Ontario, has announced that it placed teaching pastor Bruxy Cavey, 56, on a leave of absence while an external investigation looks into sexual misconduct allegations made by a woman to the church's board of directors late last month.
'We take these allegations very seriously and are committed to a thorough and transparent process. We are praying through this situation,' Maggie John, the executive chair of the church's overseers board, said in a statement reported by CityNews Toronto.
Cavey became the senior pastor of what was once called Upper Oaks Community Church in 1997. The name was changed to The Meeting House and grew to 19 campuses throughout the Toronto area with a weekly attendance of over 5,000. Its flagship campus is in Oakville.
Cavey is the author of the 2007 book The End of Religion: Encountering the Subversive Spirituality of Jesus and the 2017 book Reunion: The Good News of Jesus for Seekers, Saints, and Sinners, which has a forward written by progressive Christian activist Shane Clairborne."
Sign up for our free e-mail list to see future vaticancatholic.com videos and articles.