bloomberg.com
May 28, 2020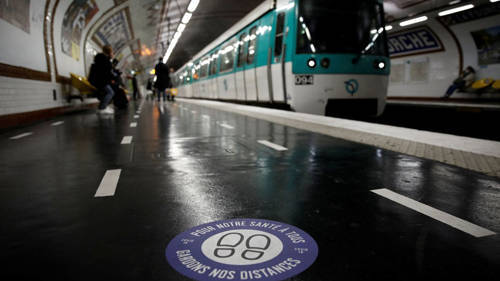 The Paris metro authority is testing CCTV software to detect whether travelers are wearing face masks.
It's part of the city's efforts to end lockdown and help prevent the spread of Covid-19, but it's raised concerns from the government's privacy watchdog.
The authority began a three-month test of its software from French tech company Datakalab this week at the Chatelet-Les-Halles station in the heart of Paris, normally used by about 33 million passengers per year. Monitors will have access to a dashboard with the proportion of riders believed to be wearing masks...
Surveillance technology use has surged as governments try to find ways to control populations under lockdown during the Covid-19 pandemic -- from drones that bark orders at people congregating to mapping people's movements with their mobile phones. Fischer's technology has already been deployed in the coastal city of Cannes in a market and at bus stops to monitor social distancing.
RATP, the Paris metro authority, said it's alerted CNIL of its plans and will closely adhere to GDPR. The software will be deployed to measure how many people are following the rules and won't be used to fine people who aren't wearing masks, a spokesman said.
Sign up for our free e-mail list to see future vaticancatholic.com videos and articles.