technocracy.news
June 28, 2020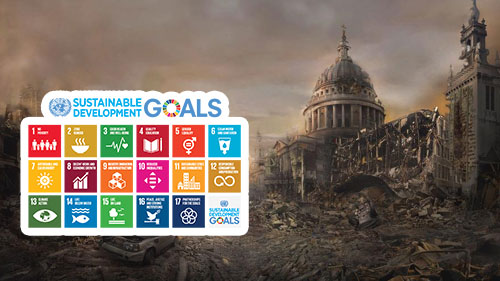 "Sustainable Development, aka Technocracy, is the endgame of the global elite who want control over all resources on earth, including people. The 'Great Panic of 2020' has been weaponized to create the biggest economic coup in the history of the world.
I would again note that control over political structures is incidental to control over all economic functions. When Technocracy prevails, elected politicians of all stripes will be summarily dismissed and engineers and scientists will run the world directly. For citizens, this is the essence of scientific dictatorship: there is no need for representative government because systems will be run autonomously via algorithm.
The threat of killing capitalism and free enterprise is very real and most definitely existential to America as we have known it for over 200 years. ⁃ TN Editor
When Alexandria Ocasio Cortez, also known as AOC, rewrote the United Nations' Sustainable Development Goals and rebranded them as the Green New Deal, many conservatives were heard laughing out loud.
She couldn't be serious, could she? But who's laughing now? AOC has gotten most everything she wanted in the Green New Deal.
Air traffic has all but ended, with long waits at airports a distant memory not likely to return anytime soon.
Automobile traffic on once-bustling highways has been reduced to a trickle.
Most Americans have either been told to work from home, or not work at all. They receive government paychecks to sit home and do nothing. AOC called it the universal basic income. It's here.
It's time for President Trump to end this nightmarish experiment. We need clarity.
Stop the back-slapping daily press briefings where 90 percent of the content consists of congratulating himself and the governors for their wonderful handling of this crisis.
Let's be honest, most have ignored the Constitution and overstepped their authority.
We need a firm date for when these lockdowns will end and our leaders need to stick to that date, not just throw a date out there, only to later extend it.
We want all of our country back. Not in stages, not in phases.
The president's advisers, Drs. Fauci and Birx, have been exposed as frauds and must no longer be allowed to dictate policy.
They convinced the president to make bad decisions based on faulty science and speculative computer models stocked with false assumptions. They are up to their necks in conflicts of interest, mostly having to do with the Bill and Melinda Gates Foundation and its many global partners pushing mandatory vaccines and a global ID system that can be used for tracking individual Americans.
For any politician to tell any small business that they are 'non-essential' based on the advice of these two Gates-funded quacks is tantamount to the central committee of the USSR telling kulaks to get off their land and go work in a factory.
Under Stalin, the Soviet state couldn't control kulaks working on the land, so they expropriated it. Took it. Is that the same strategy Gates has for the many small mom and pop businesses in America? Force them out and make them go to work for Amazon, Walmart or some other mega-corporation where they can be more closely monitored.
Sorry, but this isn't the Soviet Union or Communist China.
The state doesn't have the authority under the U.S. Constitution to deprive any American of their right to earn an honest living. Virus or no virus.
Left to its own devices, the state will always gravitate toward the accumulation of power. Once the state has claimed the right to exercise power over a certain area of your life, it rarely gives it back.
Governors have claimed the power to tell us when we can go to church, where we can and can't work. So far, most Americans seem good with that.
The arbitrary exercise of raw state power is breathtakingly evident everywhere in the current situation, yet so few are able to discern it.
Why, for instance, is it considered non-essential to shop for seeds, flowers, plants and shrubbery in Michigan while across the line in Ohio such purchases are legal?
Why, in most states, are you allowed to go to a liquor store, pot dispensary, or a crowded Walmart but not to church?
These are decisions the government has no constitutional grounds to make for American citizens.
If politicians want to infringe upon these basic rights, then they should stop being cowards and declare martial law, thereby formally suspending the U.S. Constitution.
You don't get to have your cake and eat it, too, snatching civil liberties while claiming the Constitution is still in place.
Fauci sits on the Leadership Council for the Global Vaccine Action Plan, a project of the Bill and Melinda Gates Foundation that works in concert with the United Nations...
The United Nations Agenda 2030, adopted in 2015, consists of 17 Sustainable Development Goals [aka Green New Deal] to be achieved by the year 2030.
Goal number 3, 'good health and wellbeing,' begins with the U.N.'s demand that you 'vaccinate your family.' Goal 3.8 states: 'Achieve universal health coverage, including financial risk protection, access to quality essential healthcare services and access to safe, effective, quality and affordable essential medicines and vaccines for all.' [Emphasis added]
Goal number 16.9 says 'By 2030, provide legal identity for all, including birth registration.'
The UN's 2030 Agenda motto, repeated endlessly in its documents, is that this agenda will 'leave no one behind.'
How does the UN propose to leave no one behind unless the ultimate goal is to make these 'life-saving vaccines' mandatory for all?
Deborah Birx is no less tied to the Bill Gates UN agenda than comrade Fauci.
And what about Gates himself? Why is his globalist agenda of forced vaccines and sterilization never brought to light in the mainstream media? The only answer is that the media establishment agrees with Gates' agenda and wants to hide it from the American people.
Gates has poured billions into furthering access to abortion. His vaccine projects have left thousands of women sterile in Kenya and India, and his polio vaccines have caused paralysis in Afghanistan, Congo and the Philippines."
Sign up for our free e-mail list to see future vaticancatholic.com videos and articles.