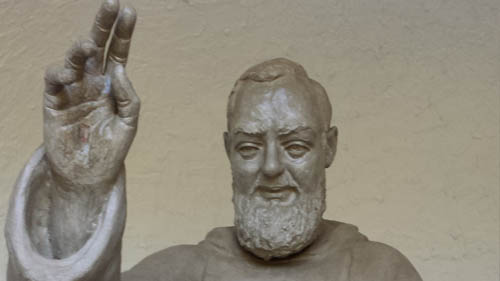 A blind man begged Padre Pio to restore his sight "even if only in one eye," so that he might again see the faces of his dear ones.  Padre Pio questioned him repeatedly, "Only in one eye?"  Padre Pio told the man to be of good heart and that he would pray for him.  Some weeks later the man returned in tears to thank Padre Pio because his sight was restored!  Padre Pio said: "So, you are seeing normally again?"  The man replied, "Yes, from this eye here, not from the other."  Padre Pio said: "Ah!  Only from one eye?  Let that be a lesson to you.  Never put limitations on God.  Always ask for the big grace!"[1]
One young man asked Padre Pio to cure him of his blindness.  Padre Pio asked him: "Do you want to have your sight restored, or to save your soul?"  The man responded: "If it is a strict choice, I should rather save my soul."  "It is a strict choice," said Padre Pio, and it was a very bitter and hard thing for the young man to accept.[2] 
In 1919, a priest named Padre Carlo Naldi came with his Jewish friend, Lello Pegna.  The priest explained that Pegna had recently become totally blind.  They had come to Padre Pio to see if he could be healed.  Padre Pio told Pegna: "The Lord will not grant you the grace of physical sight unless you first receive sight for your soul.  After you are baptized, then the Lord will give you your sight."
Months later Pegna came back without the dark glasses that he normally wore.   Pegna explained to Padre Pio that, despite opposition from his family, he had become a Christian and been baptized.  At the beginning, he was discouraged when his blindness continued, but after a number of months his sight returned.  The physician who had earlier told Pegna that he was hopelessly blind now had to admit that his eyesight was in perfect condition.  Fr. Paolino kept in contact with Lello Pegna for nearly thirty years, and reported that his vision was still perfect.[3]
Sign up for our free e-mail list to see future vaticancatholic.com videos and articles.