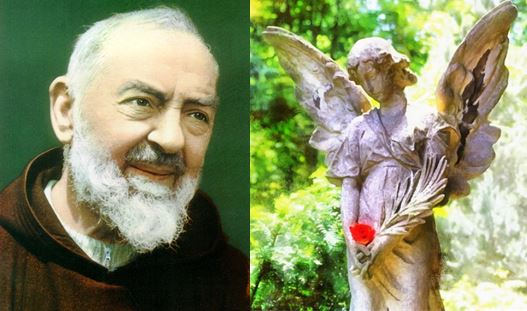 Padre Pio often recommended that if people wanted to send him a message or a petition they could send him their guardian angel.  Fr. Dominic, who handled the American mail for Padre Pio, asked him: "Padre… a woman wants to know if she sends her guardian angel to you, does he come?"  Padre Pio replied: "Tell her that her angel is not like she is.  Her angel is very obedient, and when she sends him, he comes!"[1]
Padre Pio lived in close contact with his guardian angel, who taught him to translate letters in French and Greek.  The Angel would keep Padre Pio up at night so that they could both chant God's praises.  Padre Pio's angel would also ease the pain that he suffered from beatings that he received from demons.[2]
Padre Pio had many titles for his guardian angel, including: little angel, friend, brother, companion, conductor, secretary, heavenly messenger, companion of my infancy, and others.[3]
Padre Pio, Letter, April 20, 1915  : "Often repeat the beautiful prayer: 'Angel of God, my guardian to whom the goodness of the heavenly Father entrusts me, enlighten, protect and guide me now and forever.'"[4]
A lawyer named Attilio De Sanctis was completely amazed by the fact that he had driven his car for twenty-seven miles while asleep without an accident.  During a visit to see Padre Pio, he asked him what had happened that night that he had driven for miles while asleep.  Padre Pio told De Sanctis: "You fell asleep and your guardian angel drove your car."[5]
Padre Pio said about the angels: "The angels envy us for one thing only: they cannot suffer for God."[6]
Padre Pio wrote the following to his spiritual director on November 5, 1912: 
"I cannot tell you the way these scoundrels [the demons] beat me.  Sometimes I feel I am about to die.  On Saturday, it seemed to me that they intended to put an end to me and I did not know what saint to invoke.  I turned to my Angel and after he had kept me waiting a while, there he was hovering close to me, singing hymns to the divine Majesty in his angelic voice…I rebuked him bitterly for having kept me waiting so long when I had not failed to call him to my assistance.  To punish him, I did not want to look him in the face, I wanted to get away, to escape from him.  But he, poor creature, caught up with me almost in tears and held me until I raised my eyes to his face and found him all upset.  Then he said: "I am always close to you, my beloved young man…This affection of mine will never end, not even when you die."[7]
Endnotes:
---
Sign up for our free e-mail list to see future vaticancatholic.com videos and articles.