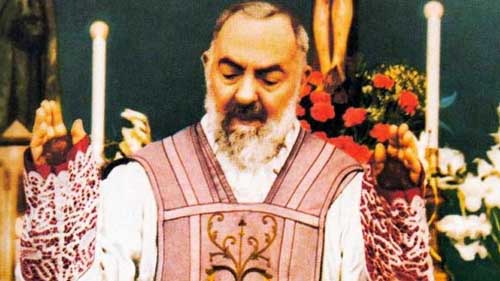 Purgatory
2 Machabees 12:46: "It is therefore a holy and wholesome thought to pray for the dead, that they may be loosed from sins."

Matt 12:32: "…but he that shall speak against the Holy Ghost, it shall not be forgiven him neither in this world, nor in the world to come."

1st Cor 3:13-15: "Every man's work shall be manifest: for the day of the Lord shall declare it, because it shall be revealed in fire: and the fire shall try every man's work, of what sort it is. If any man's work burn, he shall suffer loss: but he himself shall be saved, yet so as by fire."
One night Padre Pio was sitting alone in a room absorbed in prayer when an old man entered and sat next to him.
"'I looked at him but never thought of how he managed to get in the friary at that hour. I asked him: 'Who are you? What do you want?" The man answered: "Padre Pio, I am Pietro di Mauro, nicknamed Precoco. I died in this friary [in a fire] on September 18, 1908, in room number 4. I am still in Purgatory, and I need a Mass to free my soul from it. God has given me permission to come to you and ask for your prayers.' After I had listened to his story, I said: 'You can rest assured that I will celebrate Mass tomorrow for your liberation.'"
Padre Pio said that the Mass he celebrated the next day freed the man's soul from Purgatory. One of the other priests at the friary later on checked the village records and found that such an individual had indeed died under the circumstances described by Padre Pio.[1]
One day, some of the friars saw Padre Pio abruptly leave the table and begin to speak, as if he were speaking to someone. But no one was around Padre Pio to whom he could have been speaking. The friars thought Padre Pio was going crazy, and they asked him who he was speaking to. "Oh don't worry, I was talking to some souls who were on their way from Purgatory to Heaven. They stopped here to thank me because I remembered them in my Mass this morning."[2]
Padre Pio said: "More souls of the dead from Purgatory than of the living climb this mountain to attend my Masses and seek my prayers."[3]
One time someone asked Padre Pio how Purgatory could be avoided. He replied, "By accepting everything from God's hand. Offering everything up to Him with love and thanksgiving will enable us to pass from our deathbed to paradise."[4]
1st Cor. 2:9 "…eye hath not seen, nor ear heard, neither hath it entered into the heart of man, what things God hath prepared for them that love Him."
Padre Pio said of Heaven: "Heaven is total joy, continuous joy. We will be constantly thanking God. It is useless to try to figure out exactly what heaven is like, because we can't understand it. But when the veil of this life is taken off, we will understand things in a different way."[5]
"…at night when I close my eyes the veil is lifted and I see paradise open up before me: and gladdened by this vision I sleep with a smile of sweet beatitude on my lips and a perfectly tranquil countenance…"[6]
Endnotes:
---
Sign up for our free e-mail list to see future vaticancatholic.com videos and articles.