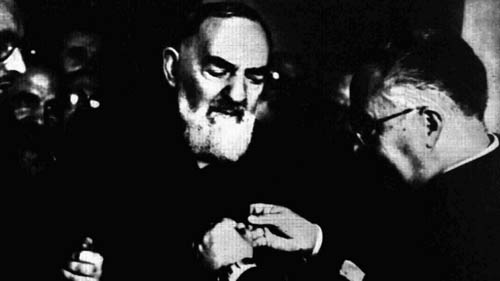 Padre Pio once told a group of people that the number of devils active in the world was greater than all the people who had been alive since Adam.[1] 
Padre Pio also said: "If all the devils that are here were to take bodily form, they would blot out the light of the sun!"[2]
At one period during his life, Padre Pio served as a spiritual director of boys at a seminary.  One night a boy was awakened by scornful laughs, the noise of iron pieces being twisted around and dropping on the ground, and of chains hitting against the floor, while Padre Pio was heard to sigh over and over again, "O my Madonna!"  The following morning, the boy examined the ironwork supporting the curtain around Padre Pio's bed, and discovered all the pieces twisted.  He also looked at Padre Pio and saw him "with a swollen, sick-looking eye."[3]   This story was circulated among the seminarians, who asked Padre Pio about it.  Padre Pio replied and described what had transpired in order to convince the boys of the absolute necessity of prayer in the battle with the devil.  Padre Pio said:
"You want to know why the devil gave me a terrific beating?  It is because I, as your spiritual Father, am willing to defend one of you."  Identifying the boy by name, he continued, "He was suffering a strong temptation against purity, and when he called on the Madonna, he was spiritually also calling on me for help.  I rushed at once to assist him, and with the help of Our Lady's Rosary I was successful.  The boy that had been tempted slept until morning, while I went through the battle, suffered the blows, but won the fight."[4]
A former seminarian, for whom Padre Pio had been a spiritual director and confessor, wrote that he and his fellow students heard the frightening noise of iron bars banging together in Padre Pio's room.  They also heard a sound like a train traveling at high speed through a tunnel.[5]  One of the students, who became Fr. Matrice, also explained how one night he woke up because of a terrible uproar coming from the area where Padre Pio was sleeping.  He described hearing a "burst of derisive laughter and the sound of iron-bars being twisted as well as of chains clamoring on the floor."[6]
Endnotes:
---
Sign up for our free e-mail list to see future vaticancatholic.com videos and articles.