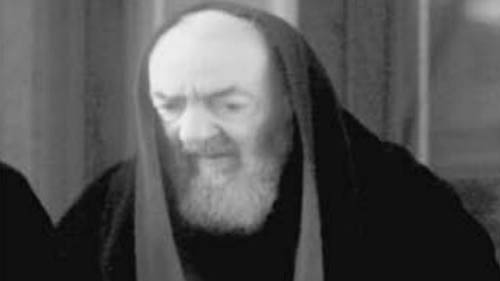 Jacinta of Fatima: "The sins which cause the most souls to go to Hell are the sins of the flesh."
It was well known among the older priests that Padre Pio was not against using harsh, rough, and shocking language, as we saw already.  This was especially true when he was dealing with cases of impurity, scandal, calumny, and sins against Motherhood.  He didn't forgive these people without a rebuke, and often a very severe one.  While serious sinners were often admonished with a severe warning, others were refused absolution because they were not sufficiently prepared.[1]  Padre Paolo Rossi, the postulator general of the Capuchins, stated: "Padre Pio had a rough character."[2]
A man who was being unfaithful to his wife confessed to Padre Pio that he was having "a spiritual crisis."  Padre Pio stood up and yelled, "What spiritual crisis?  You're a vile pig and God is angry with you.  Go away!"[3]
Another young woman confessed that she had committed sins against purity.  However, she knew that when she returned home she would fall back into the same temptation and commit the sin again.  She lacked the firm purpose of amendment (the firm resolution to change her life and cease sinning) – an essential component in making a good confession.  Padre Pio refused to absolve her.  She came back again and made the same confession, but Padre Pio again did not absolve her.  This happened four times in a row.  Right before her fifth confession, she thought to herself: "I'd rather die than commit this sin again," and she thought about this during her whole confession.  Padre Pio examined her closely, and then absolved her.[4]
A woman who had an abortion came to Padre Pio.  She told him, "I never knew abortion was a sin."  He replied: "What do you mean, you didn't know that this was a sin?  That's killing…it's a sin, a great sin."[5]
One woman said she had read immoral books.  Padre Pio said: "Have you confessed this before?"  "Yes," she nodded.  "What did your confessor say to you?" Padre Pio asked. "I wasn't to do it anymore," she said.  Without saying a word, Padre Pio closed the confessional door in her face and began to hear the next confession.[6]
Endnotes:
---
Sign up for our free e-mail list to see future vaticancatholic.com videos and articles.