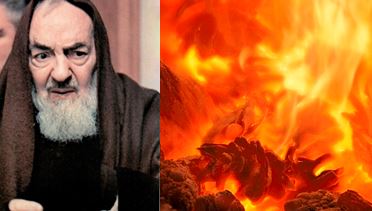 Concerning his Franciscan Province, in a letter December 29, 1912, Padre Pio wrote:
"For some time past he [Our Lord] has not been pleased to answer me whenever it is a question of matters appertaining to our Province, for he is very disgusted by the way our Province is behaving."[1]
Padre Pio could also see that the universal apostasy and desolation was growing and well in place all the way back in 1914.
In a letter on April 20, 1914, Padre Pio said: "…it afflicts my heart to see so many souls apostatizing from Jesus. What freezes the blood close to my heart is the fact that many of these souls become estranged from God solely because they are deprived of the divine word. The harvest is great but the laborers are few. Who is then to reap the harvest in the fields of the Church when it is almost ripe? Will it be scattered on the ground by reason of the scarcity of workers? Will it be reaped by Satan's emissaries who are, unfortunately, both numerous and extremely active? Ah, may the most sweet God never allow this to happen. May He be moved to pity for the poverty of men which is becoming extreme."[2]
In a letter on April 25, 1914, Padre Pio said: "Let us pray to our most merciful Jesus to come to the aid of His Church, for her needs have become extreme."[3]
Padre Pio, Letter, February 16, 1915: "…she would need to have a director [spiritual] who is very enlightened in the ways of God. But where is such a one to be found in these dreadful times? The most merciful Jesus himself has complained of this. Oh, my dear Father, what very sad times are these!... May the divine Father soon put an end to this disastrous situation!"[4]

Padre Pio, Letter, August 28, 1917: "Pray for this soul that weeps over the universal desolation and especially over the desolation of our poor Province."[5]
Padre Pio lamented to God the Father thus: "Father, I entreat you, either quickly put an end to the world or put an end to the sins that are continually committed against the adorable Person of your only-begotten Son."[6] Padre Pio saw World War I as a punishment for man's unbelief.[7]
In July of 1946, Padre Pio sent striking words to the Archbishop of Benevento, Italy: "Benevento was bombed and lost the cathedral and Episcopal residence as a punishment for the Archbishop…Worse, not even after this punishment from God is the Archbishop willing to understand his responsibility. He is truly hard of heart…souls are being lost and the enemies of God are wreaking havoc, all because the Archbishop sleeps…"[8]
Endnotes:
---
Sign up for our free e-mail list to see future vaticancatholic.com videos and articles.