lifesitenews.com
January 4, 2020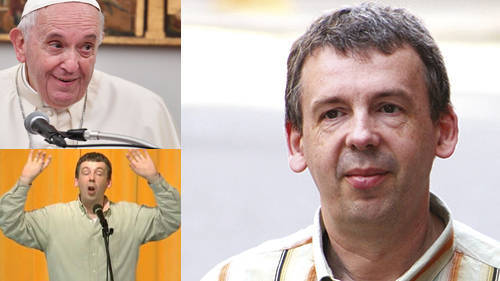 "An 'out' gay priest who rejects the Church's teaching on homosexuality shared his personal reaction to a phone call he claims he received from Pope Francis in which the Pontiff reportedly affirmed him as a homosexual priest.
In an article published by New Ways Ministry... the openly homosexual priest also explained why he finally chose to make public the phone call.
Fr. James Alison, a 60-year-old former Dominican, revealed that he is the prominent gay theologian/priest who received a call from Pope Francis in 2017, as recounted in Frédéric Martel's controversial book, In the Closet of the Vatican: Power, Homosexuality, Hypocrisy.
'I 'sat' with the knowledge of the phone call for over two years,' explained Alison. 'I shared knowledge of it, of course, with a small group of friends, asking them to keep it to themselves. I had promised the Holy Father extreme discretion, and I did not want to expose him to any more hatred than he was already receiving.'
Alison said the call gave him determination to carry on as a priest...
So what changed to make me feel entitled to let the call be more widely known? The key factor was something my former novice-master, the bishop who had taken my letter to the Holy Father and pleaded with him to sort out my situation, told me in May 2019.
The Holy Father told him he had called me, describing the conversation to him in the same words as I had reported. Francis had thus deliberately created a witness to what he had done. It took me a little time for the significance of that to sink in, but it was this development that finally overcame any scruples I had about making the matter public.
By that time it was also clear from Francis' reported reaction to Frederic Martel's book on gay priests in the Vatican and from the fact that the same book had taken a great deal of the wind out of the sails of the closeted homophobes who opposed him, that he needed no protection from worried little me! That, and the freedom with which he was organising the Amazon Synod convinced me that I would do him no harm.
Alison first went public with his story when he penned an article for The Tablet in September 2019.
'I guess the story starts in 1994, when, fully six years a priest, it became clear to me that I could no longer pretend that there was anything wrong with same-sex love,' wrote Alison...
Alison currently lives in Madrid, Spain, and continues to describe himself as a priest, theologian, lecturer and preacher."
Sign up for our free e-mail list to see future vaticancatholic.com videos and articles.