novenanews.com
May 27, 2020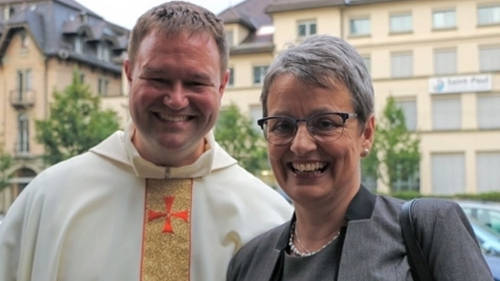 "Marianne Pohl-Henzen made history May 19 when she became the first woman to rise to a position equivalent to that of 'episcopal vicar' in the Swiss diocese of Lausanne, Geneva and Fribourg.
Since that position of 'bishop's deputy' is linked in Church law to ordination – and hence reserved only to men – laywoman Pohl-Henzen has received the title of 'episcopal delegate' instead, though she will have much the same power as an episcopal vicar – in her case, in the German-speaking vicariate of Fribourg.
Pohl-Henzen spoke to Swiss Catholic news agency kath.ch about her appointment as Bishop Charles Morerod's 'right-hand woman', which she will take up August 1 after a four month sabbatical and eight years' experience as adjunct to the three previous Fribourg episcopal vicars.
The 60-year-old married mother of three and grandmother of four explained that although she will not be an episcopal vicar, she will nonetheless be able to 'do many things, such as managing personnel, including priests, and directing various ecclesial entities'.
Pohl-Henzen said that she will also be a contact point for the Church in the canton of Fribourg and will have a seat on both the Bishops' Council and the Presbyteral Council.
Asked what should be read into her appointment in terms of the struggle of Catholic women for equal rights, the new episcopal delegate celebrated that Bishop Morerod 'is doing everything he can to promote women in the Church'.
It's clear that vote of confidence is encouraging to Pohl-Henzen, who revealed that she wouldn't back down to a priest who challenged her new authority, but instead would tell him: 'Please go to the bishop'.
'But the bishop will probably send him back to me and say... You have to discuss this with the person in charge', Pohl-Henzen admitted...
'I no longer climb the barricades and call for the female priesthood, even if I think that is fundamentally good', Pohl-Henzen explained...
'First we need the women's diaconate', she insisted."
Sign up for our free e-mail list to see future vaticancatholic.com videos and articles.