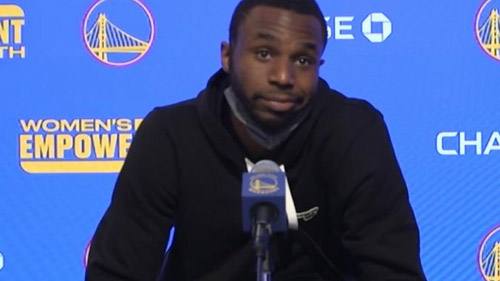 "The NBA has denied Andrew Wiggins' request for a vaccination exemption, leaving the Golden State Warriors swingman ineligible to play home games until he meets San Francisco's vaccination requirement.
The ruling was announced Friday, hours after the New York Knicks said their entire roster is vaccinated, making all their players eligible to play in their home games.
Because of local coronavirus regulations in New York and San Francisco, the Knicks, Brooklyn Nets and Warriors are required to be vaccinated to play in their home arenas unless they have an exemption for medical or religious reasons.
Wiggins sought an exemption from the NBA for religious reasons.
'The NBA has reviewed and denied Andrew Wiggins' request for religious exemption from the San Francisco Department of Public Health's order requiring COVID-19 vaccination for all participants age 12 and older at large indoor events,' the league said in a statement. 'Wiggins will not be able to play in Warriors home games until he fulfills the city's vaccination requirements.'
The San Francisco Department of Public Health made clear earlier Friday that there would be no exemption for anyone 12 and older at large indoor gatherings.
'Under the current order, if unvaccinated, they cannot enter indoor areas regardless of the reason they are unvaccinated and cannot test out of this requirement even if they have a medical or religious exemption,' it said in a statement.
Unvaccinated NBA players are allowed to play this season, though the league has said that they will have to be tested daily on practice and travel days and at least once -- possibly more -- on game days. Fully vaccinated players will not be subject to daily testing.
However, the Knicks, Nets and Warriors face stricter rules because of local regulations, which the NBA has told teams do not apply to clubs visiting them...
The NBA has struck agreements this offseason to have virtually all parties involved in games -- referees, coaches, stat-crew workers and anyone else who will be in close proximity to players on or off the court in NBA arenas -- vaccinated in order to participate."
Sign up for our free e-mail list to see future vaticancatholic.com videos and articles.