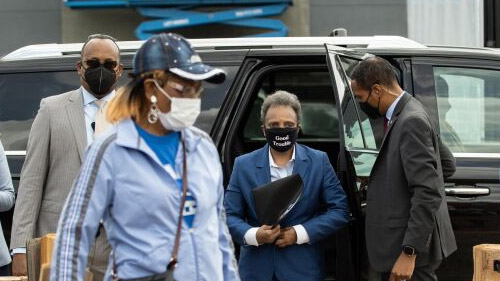 "In a city reeling under crime and violence, 'Defund the Police' advocate Mayor Lori Lightfoot is diverting over 70 police officers to protect herself and her property.
That is on top of an additional 20 officers who serve as her personal bodyguard.
As reported by the Chicago Sun-Times, the special unit, called the Government Security Detail, was quietly started in July 2020.
A memo on the creation of the division stated its purpose was 'to provide physical security for City Hall, the mayor's residence and the mayor's detail command post.'
The unit was created at the same time other Chicago neighborhoods were complaining about a shortage of police.
Even while Lightfoot used the Chicago police like her own personal minions, she also waged war against them by mandating Covid 19 vaccinations and cracking down on officers through increased scrutiny of policing actions.
This was after Lightfoot's pledge to cut $80 million from the police budget in 2020, according to Fox 17 WZTV Nashville.
Police officers have literally turned their backs on the mayor in response to her contemptuous treatment.
As Mayor Lightfoot enjoys her special protections, the population of Chicago suffers under constant violence."
Sign up for our free e-mail list to see future vaticancatholic.com videos and articles.