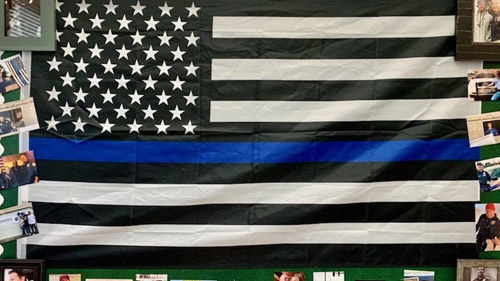 "Promoting the LGBT agenda in the classroom is acceptable but expressing support for police officers is not, according to a Washington state middle school who recently threatened a teacher with disciplinary action.
Fox News reports that retired Marysville Police Department officer Chris Sutherland recently described the experience of his sister, a teacher at Marysville Middle School (MMS) who wishes to remain anonymous, to KTTH radio host Jason Rantz.
An assistant principal at the school first approached the teacher about a 'Thin Blue Line' sticker on her laptop, meant to express support for her brother's dangerous job, with 'concerns about how students, families, and community members might interpret what the image is intending to communicate' and how 'this interpretation may cause a disruption to the learning environment,' according to an HR document reviewed by Rantz.
Concerns about the sticker soon took a backseat, however, after the teacher put up a 'Thin Blue Line' flag, bordered with photos of her brother, in her classroom. Another principal told her to take down the flag, and an HR representative for the school district notified her that it was 'highly concerned about the impact of this political symbol on students, staff, and families of Marysville Middle School,' and warning her of 'further disciplinary action' unless she 'refrain[ed] from using the 'Thin Blue Line Flag' symbol' in the school.
The teacher complied but wrote the district a response explaining that it had put her through 'the most traumatic and hostile' experience of her tenure at MMS.
'It's hurtful because I can hear in her voice how much it actually hurts her being told to [take down the flag],' Sutherland told Rantz...
During his interview with Rantz, Sutherland noted that the district allows teachers to display LGBT 'pride' flags in classrooms, as well as flags promoting Black Lives Matter (BLM), the far-left group associated with violent riots across the United States last year. BLM has praised the authoritarian government of Cuba for granting asylum to convicted cop-killer Assata Shakur.
Pearson attempted to justify this apparent double-standard in the letter, writing that BLM and LGBT symbols 'can be seen as having a specific educational purpose that is directly aligned with instructional objectives or extracurricular programs. For example, our students participate in several different extracurricular leadership activities, including our Black Student Union, Latino Student Union, LGBTQIA+ Club, to name a few. In these cases, these symbols, or others like them, can be appropriate in a school setting.'"
Sign up for our free e-mail list to see future vaticancatholic.com videos and articles.