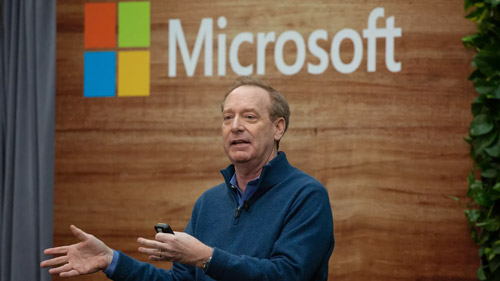 Microsoft President Brad Smith recently spoke with BBC's Panorama where he predicted a dystopian world reminiscent of George Orwell's famous novel "1984" will rise within three years if artificial intelligence isn't regulated soon.
"If we don't enact the laws that will protect the public in the future, we are going to find the technology racing ahead, and it's going to be very difficult to catch up," he warned.
"I'm constantly reminded of George Orwell's lessons in his book 1984. You know the fundamental story was about a government who could see everything that everyone did and hear everything that everyone said all the time," Smith continued. "Well, that didn't come to pass in 1984, but if we're not careful that could come to pass in 2024."
The episode primarily focused on China's use of AI to control and track its citizens, even using facial recognition tech to monitor Uyghur Muslims held in concentration camps.
However, the threat of AI is just as serious here in America...
In 2014, Musk said, "It's really, I like to just keep an eye on what's going on with artificial intelligence. I think there is potentially a dangerous outcome there… I mean, there have been movies about this, you know, like... Terminator.'...
The same year, world-renowned scientist Stephen Hawking flat-out told the BBC, "The development of full artificial intelligence could spell the end of the human race."
Sign up for our free e-mail list to see future vaticancatholic.com videos and articles.