zerohedge.com
February 6, 2020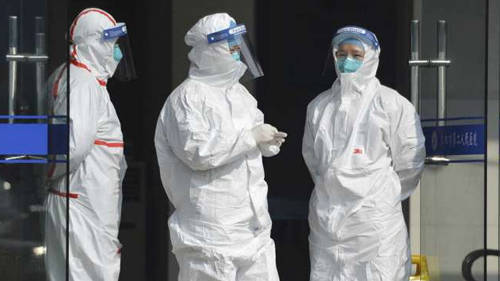 Radio Free Asia (RFA) has tweeted a disturbing video on its Twitter account Tuesday morning detailing how some residents in Kunshan, Jiangsu, a city in southeastern Jiangsu province with Shanghai bordering its eastern border and Suzhou on its west, are forcibly removing people from their homes who refuse to be quarantined.
RFA said (in a translated tweet): "[Residents of Kunshan, Jiangsu refused to be quarantined] [Forcibly taken away by staff members] Online circulated clips, a group of personnel wearing protective clothing of "Kunshan City Governance" went to a household to persuade the residents to prepare for packing to be isolated, but the head of household refused to cooperate. The staff then entered the house and took the residents one by one and sent them to the ambulance. The male head of the household questioned the staff members for breaking the law and fiercely resisted.
【江苏昆山居民拒绝隔离】
【被工作人员强行带走】

网上流传片段,一批穿着"昆山市治理"防护服的人员,到一户人家劝住户准备行装接受隔离,但户主拒绝合作。工作人员于是入屋把住户逐个抬走送上救护车

男户主质疑工作人员违法并激烈反抗,期间抓破工作人员的防护服,又企图躲进车底 pic.twitter.com/ce1JbpiJkC

— 自由亚洲电台 (@RFA_Chinese) February 4, 2020
Local media, QQ.COM, reported that some residents in Jiangsu were being locked in their homes by authorities.
Several videos document how authorities mounted metal tubing across people's front doors to prevent them from leaving.
朋友圈看到大量封门视频,这样是要把人闷死在里面吗?!如果没有食物了怎么办?如果有急事生病了怎么办!! pic.twitter.com/wGD1LnpYaM

— 沉默的力量The power of silence (@2mmbPkM00IJwIUV) January 29, 2020
In one video, it shows a person inside an apartment, who can't leave because authorities mounted metal piping across the door frame.
Two videos show all floors of a residential building in Jiangsu-China were blocked by welding fence because a confirmed case found in it. #2019nCoV #WuhanCoronavirus #WuhanVirus pic.twitter.com/C5i4UMltjl

— 𝓟𝓪𝓬𝓸 🇸🇬 (@PacoHk) January 29, 2020
Sign up for our free e-mail list to see future vaticancatholic.com videos and articles.