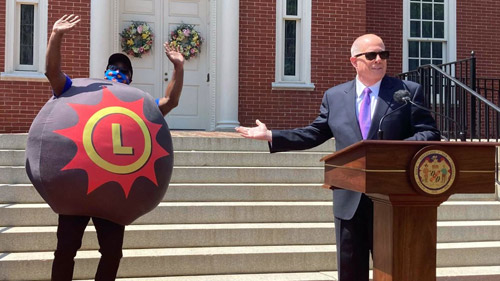 "Maryland officials have hailed the state's $2 million VaxCash lottery as an 'unqualified success,' a promotion that helped the state reach its goal of inoculating 70 percent of its adult population with at least one shot of a coronavirus vaccine by Memorial Day.
It worked so well at boosting vaccinations that they decided to start another one - VaxU Scholarship, which offers 20 vaccinated 12- to 17-year-olds a chance at winning a $50,000 in-state public college scholarship. It runs until Labor Day...
'There are some people who just either haven't gotten around to it or they are like, 'I may get it but I just didn't feel the need,' ' Gov. Larry Hogan, a Republican, said in early July at the launch of the VaxU Scholarship. 'There are others who are just opposed to it and are hard to convince. But I think there are more of the folks that just need a little extra incentive to go out and do it, and I'm hoping that this opportunity at a college scholarship and us getting out talking about the importance of it will help encourage some more younger people to do so.'...
Under California's $116 million Vax for the Win, the country's largest pot of vaccination incentive money, residents are receiving prizes that range from a $50 gift card to a 'dream vacation' to a California city for four or five days to a $1 million prize. New York gave away lottery scratch-off tickets to residents who got vaccinated at a state-run vaccine clinic during the program, which ran in late May. And Ohio offered $1 million weekly prizes and full-ride college scholarships.
As of mid-July, D.C. health officials said they'd given out more than 2,000 of the $51 gift cards and more than 300 gift cards to people who brought other people to get vaccinated. But city officials say they believe the incentives are worth trying, especially if they nudge some people into taking the shot. Last week, they announced a new lottery to boost vaccinations among 12- to 15-year-olds."
Sign up for our free e-mail list to see future vaticancatholic.com videos and articles.