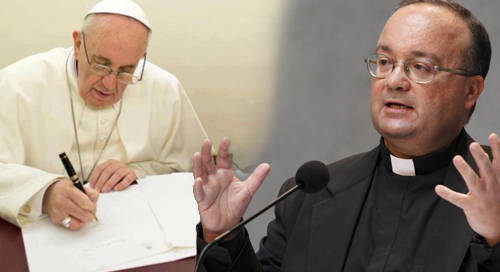 As part of their implementation of Antipope Francis' notoriously heretical teaching in Amoris Laetitia, the apostate 'bishops' of the Vatican II sect in Malta are now openly stating that "remarried people [that is, people living in adulterous situations and invalid second 'marriages'] should receive Communion if they think they are at peace with God.  In a new document, Criteria for the Application of Chapter VIII of Amoris Laetitia, the bishops say that if 'a separated or divorced person who is living in a new relationship manages, with an informed and enlightened conscience, to acknowledge and believe that he or she are [sic] at peace with God, he or she cannot be precluded from participating in the sacraments of Reconciliation and the Eucharist'." (Catholic Herald, Malta's bishops tell the remarried: take Communion if you feel at peace with God)
This is of course a total rejection of the Church's dogmatic teaching on the indissolubility of marriage and that second 'marriages' are invalid and adulterous.  It repudiates the scriptural and dogmatic proclamation that adultery puts one in a state of mortal sin, and that those living in a state of mortal sin may not be admitted to Communion.  The apostate Maltese 'bishops' also say that avoiding sex with a new partner may be "impossible".  "The Maltese document is signed by Archbishop Charles Scicluna of Malta, a former doctoral student of Cardinal Burke, and Bishop Mario Grech of Gozo."  The document has also been published by the Vatican's newspaper, L'Osservatore Romano.
The guidelines of the Maltese 'bishops' have been published in a document which has been handed out to every 'priest' in the 'Archdiocese' of Malta and the 'Diocese' of Gozo.  The 'Archdiocese' of Malta and the 'Diocese' of Gozo have also directed that a letter explaining the guidelines be read out at 'Mass' on Sunday in churches all over Malta and Gozo.  They want to ensure that everyone knows that adulterers are officially allowed to receive 'Communion' in the Vatican II sect. This is another prime example of why a heretic such as Francis could never be a valid pope and must not be recognized as such.  The subjects of the heretic (in this case the Maltese 'bishops', who are simply following and implementing the heretic Antipope Francis' false teaching in Amoris Laetitia, which was promulgated to the entire Vatican II sect) will necessarily adopt and spread the false teaching of their leader, thereby leading souls to damnation.  That's why the Church teaches that a heretic cannot be a valid pope or hold office in the Church.  As soon as it's clear that someone is a heretic or is professing a false faith, he must be rejected as a non-Catholic who holds no authority over Catholics.  The news out of Malta further illustrates how false traditionalists who obstinately insist that the apostate Antipope Francis and his 'bishops' have authority not only deny Catholic teaching themselves but lead multitudes around the world into heresy and mortal sin by telling them to be subject to heretics who will teach them a false religion and lead them into mortal sin.
In November, the Vatican II sect's 'Diocese of San Diego' similarly said that "remarried Catholics" may "conclude that God is calling them to return to full participation in the life of the Church and the Eucharist." (Ibid.)
All of this is notorious heresy and a new gospel that rejects the teaching of Jesus Christ and the Catholic Church on marriage.  It is more absolute proof that Antipope Francis is not a pope and that his apostate 'hierarchy' is not Catholic. The Vatican II sect is the prophesied end-times Counter Church.
Jesus said: "Everyone who divorces his wife and marries another commits adultery, and he who marries a woman divorced from her husband commits adultery." (Luke 16:18)
Sign up for our free e-mail list to see future vaticancatholic.com videos and articles.