christiannews.net
February 18, 2020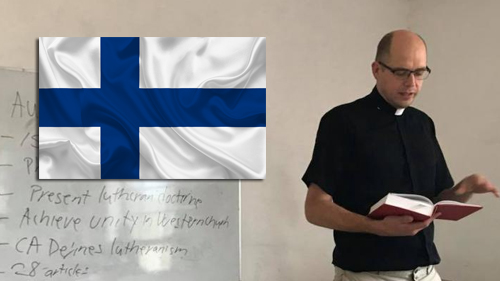 HELSINKI — The dean of the Evangelical Lutheran Mission Diocese of Finland was questioned by police on Tuesday over his role in the distribution of a booklet on the biblical view of homosexuality, as he was suspected of the crime of 'ethnic agitation.'
Juhana Pohjola's office posted notification on the Luther Mission website, outlining that the interrogation lasted for five hours as the police went through the parts of the booklet 'Male and Female He Created Them' that Prosecutor General Raija Toiviainen found to be 'defamatory and insulting' to homosexuals.
Pohjola serves as the editor for Luther Foundation Finland and is the webmaster of its website. He was questioned because of his involvement in the booklet's distribution and for keeping the content available online.
'At the tactful and thorough interrogation, I said that I am, as the editor-in-chief, responsible for the publication and distribution of the booklet,' Pohjola said. 'I denied, however, being guilty of the crime of ethnic agitation.'
Ethnic agitation is defined under Finnish law as being when '[a] person … makes available to the public or otherwise spreads among the public or keeps available for the public information, an expression of opinion or another message where a certain group is threatened, defamed or insulted on the basis of its race, skin color, birth status, national or ethnic origin, religion or belief, sexual orientation or disability or a comparable basis.'
Violators can face fines or imprisonment of a maximum of two years.
According to Evangelical Focus, the law was originally enacted to combat racism, but so-called sexual orientation was added to the statute in 2011.
As previously reported, the 2004 publication was written by Christian lawmaker and pastor's wife Päivi Räsänen, who was also investigated in being suspected of committing a hate crime.
'According to the prosecutor general, there is reason to believe that because of the defamation of homosexuals by the violation of their human dignity, Ms. Räsänen is guilty of incitement to hatred against a group,' a press release explained in November. 'Therefore, there will be a preliminary investigation in this matter.'
While it is not known exactly which parts of the booklet were found to be offensive, sections include 'Breakdown of Family Values,' 'Heterogeneous Homosexual Culture,' 'The Words of Christ and Homosexuals' and 'The Gospel and Grace Belong to All.'..."
Sign up for our free e-mail list to see future vaticancatholic.com videos and articles.