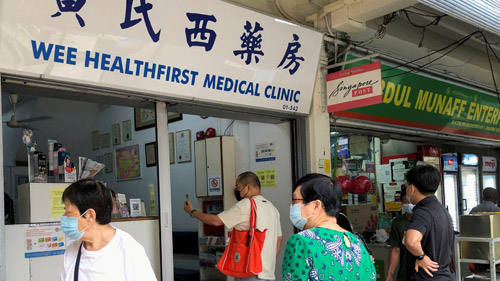 "Singapore has just reached a level of vaccination penetration that many other developed economies would envy: 80% of its adult population has been vaccinated.
And yet, it continues to struggle with one of the worst outbreaks yet. On Sunday, the nation of 5.7 million people reported 555 new local COVID-19 cases, the most since August 2020. One day prior, Singapore recorded its 58th COVID death, a partially vaccinated 80-year-old man with a history of diabetes, hypertension and heart problems.
Rather than lowering restrictions, Singapore's Ministry of Health last week banned social gatherings at workplaces, allegedly because clusters of workers gossiping around the water cooler led to an outbreak. And in their free time, Singaporeans have been asked to attend one social gathering per day, tops.
Despite Singapore being one of the world's most heavily vaxxed countries, not much about life has changed for the worst of the COVID pandemic. Alex Cook, an infectious diseases modelling expert at the National University of Singapore, acknowledged that life had not improved 'by as much as we might have hoped,' despite Singapore being one of the world's most vaccinated countries."
Sign up for our free e-mail list to see future vaticancatholic.com videos and articles.