lifesitenews.com
February 13, 2020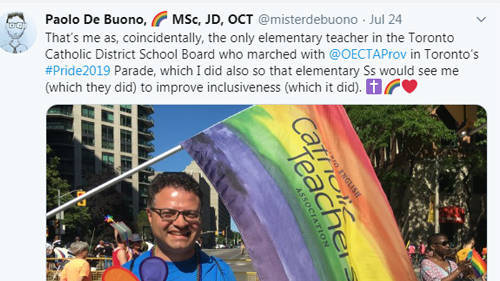 "A Catholic teacher who openly boasts about reading pro-homosexual and pro-transgender books to Grades 5 and 6 students cites the Toronto Catholic School Board adding 'marital and family status, gender expression and gender identity' as prohibited grounds of discrimination to its code of conduct as his justification.
Paolo De Buono, an elementary teacher at Toronto's St. James Catholic School, tweeted last week that the books he's reading to 10- and 11-year-old students include Sparkle Boy, The Boy who Cried Fabulous, A Tale of Two Mommies, and A Tale of Two Daddies.
De Buono was a leading advocate of the Toronto District Catholic School Board (TCDSB) adding the terms to its code of conduct, which governs students and staff, during the months' long and bitter battle over the issue.
Teresa Lubinski, whom he mentions in his tweet, is one of four trustees who voted in November against the change.
The TCDSB is one of the largest publicly funded school boards in the world, with more than 91,000 students in 195 schools, and De Buono earns about $102,500 a year.
In other posts in a Twitter feed replete with pro-LGBT messages, De Buono displays a photo of his tie emblazoned with the slogan 'It's okay to be gay' and freely 'outs' LGBTQ Catholic teachers:
Blais, who has marched with Ontario English Catholic Teachers' Association (OECTA) in Toronto's Pride Parade, teaches at Toronto's Cardinal Carter Academy for the Arts. She is a member of OECTA's LGBTQ caucus, and Chaisson teaches at Ascension of Our Lord in Malton.
De Buono is also lobbying the board to allow 'Diversity Klubs' for Grade 7 and 8, which he alleges are essential to combat 'homophobia,' as he tweeted last week...
To support our Equity Action Plan at the school level, I proposed the Diversity Klub. I submitted a proposal in Sept., it wasn't set up by Jan., & so I submitted an updated proposal in Jan. A majority of Gr. 7-8 indicated an interest in participating.https://t.co/b8NVbqOxhJ pic.twitter.com/7eoU1jhDG9

— Paolo De Buono, 🌈 MSc, JD, OCT (@misterdebuono) February 4, 2020
LifeSiteNews contacted Neil McCarthy, spokesman for Toronto Cardinal Thomas Collins, asking for a statement. McCarthy replied that 'there is no public comment at this time.'"
Sign up for our free e-mail list to see future vaticancatholic.com videos and articles.