Leo XIII vs. Gaudium et Spes (Vatican II) on Man
Pope Leo XIII, Tametsi Futura Prospicientibus (#7), Nov. 23, 1900: "From this it may clearly be seen what consequences are to be expected from that false pride which, rejecting our Savior's Kingship, places man at the summit of all things and declares that human nature must rule supreme. And yet, this supreme rule can neither be attained nor even defined. The rule of Jesus Christ derives its form and its power from Divine Love: a holy and orderly charity is both its foundation and its crown. Its necessary consequences are the strict fulfilment of duty, respect of mutual rights, the estimation of the things of heaven above those of earth, the preference of the love of God to all things. But this supremacy of man, which openly rejects Christ, or at least ignores Him, is entirely founded upon selfishness, knowing neither charity nor self-devotion."
Vatican II document, Gaudium et Spes # 12: "According to the almost unanimous opinion of believers and unbelievers alike, all things on earth should be related to man as their center and summit."
Vatican II document, Gaudium et Spes # 26: "There is also increasing awareness of the exceptional dignity which belongs to the human person, who is superior to everything and whose rights and duties are universal and inviolable."
New Video Posted
Benedict XVI: Was He A Real Pope?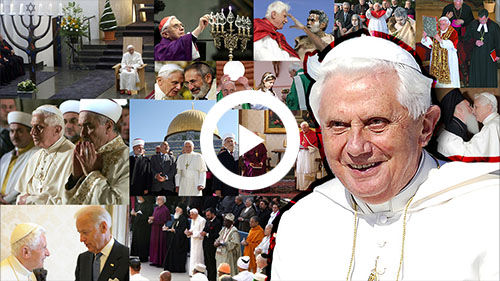 MHFM: This is an important new video that covers many issues.  It also contains two interesting new quotes from a pope and saint that are relevant to a number of theological topics.  Please watch and share the video.
Sign up for our free e-mail list to see future vaticancatholic.com videos and articles.