huffingtonpost.com This is Hoss the yellow Lab with his buddy Jack the squirrel sitting on his head.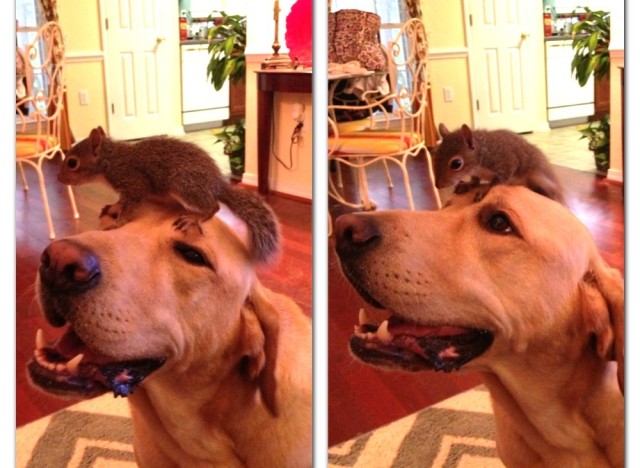 Ryan Sansone, who owns Hoss with fiancee Hillary Ducote, posted the doggie's photo to Reddit over the weekend. He explained there that Hoss brought home two orphaned baby squirrels -- Jack and his Jill, both so young their eyes were still closed -- about three weeks earlier. Jill didn't make it, but they were able to feed Jack formula from a syringe. It looks like, in a few more weeks, he'll be eased back into the wild:
I'm building a cage for him this weekend that he'll be introduced to at some point once he's solely on solid food. It'll be something in my backyard that will always be open and he can come back if he wants.
Sansone, who lives in Alabama, told The Huffington Post by email that Hoss is a certified therapy dog who, among his other good deeds, sits with kids at public libraries while they read out loud "as a way to build their confidence. Hoss will even be in a children's play next month." Ducote is a dog trainer who has also spent a lot of time taking care of injured wildlife -- and that means that Jack isn't Hoss' first baby animal buddy. Here he is with an earlier friend, Rocky the raccoon: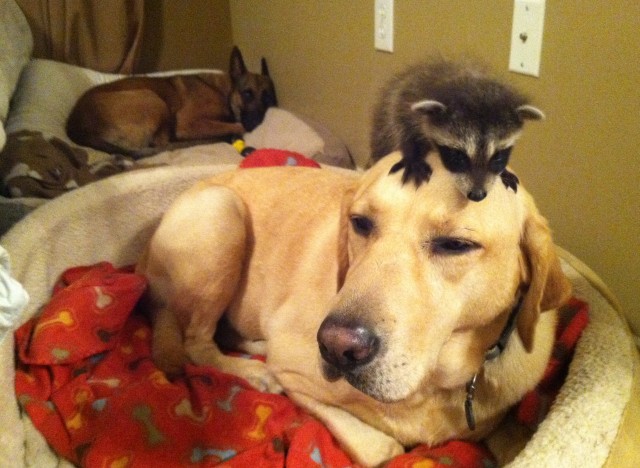 "People were always dropping off baby squirrels, raccoons, kittens and anything else that couldn't be cared for," said Sansone. "We don't go in search of these animals, they always have a way of finding us. We are here to help them survive until they can be on their own." Hoss seems to consider it his mission to help these animals, too. "We bought a pre-release cage that Jack has been introduced to. Hoss has sat patiently in front of the cage, waiting for Jack to come out or making sure Jack is OK," Sansone said. "He's a very special dog that has brought joy to children, elderly, orphaned babies and, of course, us."
Sign up for our free e-mail list to see future vaticancatholic.com videos and articles.