Oksana Grytsenko theguardian.com They adopt nicknames such as hunter, comrade and chemist-amateur. They swap tips on the whereabouts of a target and recipes for poison. And when the moment is right, they strike with doctored food or a simple shot to the head. Kiev's dog hunters are taking matters into their own hands, targeting the city's thousands of strays in the name of public health. But in so doing, they are stoking a row about animal rights in a country famously blase about the welfare of its animals. Last year, when pictures of strays lying on Ukrainian streets provoked an international storm in the runup to Euro 2012, the government invited in foreign vets, including the Austrian organisation Vier Pfoten (Four Paws), which offered free neutering and vaccination of stray animals at mobile clinics. But soon after the football fans went home, the slaughter of stray dogsresumed in Kiev. Now Vier Pfoten has stopped its neutering programme after death threats were posted on the web. "They said I could be killed exactly like happened to a judge in Kharkiv," said Amir Khalil, head of the Vier Pfoten project in Ukraine, referring to a judge found decapitated in his flat together with three members of his family in December 2012. "They said: 'We don't need foreigners to castrate our dogs!'" He said because the authorities and police in Kiev had not taken action after the threats, the project had been moved out of the city. Kiev, which has a population of about 3 million people, has up to 18,000 stray animals, mostly dogs, city officials say. The authorities claim they lack money to keep them all at shelters. Dog hunters use a website called "Vreditelyam.net?" ("no to pests") to share information about the dogs' locations, discuss recipes for poison and post photographs of the dogs they have killed. They call the dogs "flea carriers", the pieces of food laced with poison "yummy" and the dog's killing "sending to a rainbow".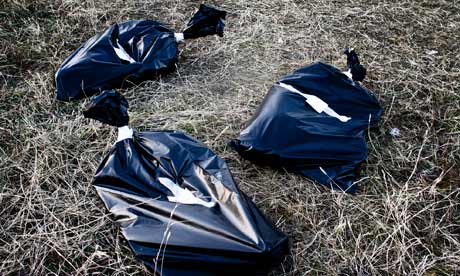 Dead dogs in plastic bags left on the ground. Photograph: Anna Voitenko Oleksiy Sviatohor, a lawyer, is one of the few who admits to being a dog hunter. "This work is like cleaning up the trash," he said. "Some may not like it, but we are finding the solution." Sviatohor claimed that the neutering by Vier Pfoten was merely mutilating the dogs and did not solve the problem. He said the poison, an anti-tuberculosis medication that is extremely toxic for dogs, causes a relatively fast and painless death. But Tamara Tarnavska, an animal rights campaigner, finds it almost unbearable to talk about the dog hunters. "An animal takes five or six hours to die in agony," she said. Volunteers have seen the hunters giving poison to the dogs and reported them to the police. But they remember only one case of someone being imprisoned for slaughtering stray dogs. In June 2012 a student, Oleksiy Vedula, who tortured and killed more than 100 dogs and posted videos on the web, was sentenced to four years in jail. Sviatohor said thousands of residents had been attacked by stray dogs and many people supported the dog hunters. But animal rights activists say family dogs and even children playing in gardens risk eating poison left by the dog hunters. Serhiy Morozov, a video engineer, was recently bitten on the leg by a stray dog. He said he was lucky to be wearing jeans, which protected him from the dog's teeth and the risk of rabies. Morozov said that while he would be more careful around stray dogs, he would never justify the killing of animals by dog hunters. "I would strangle these people with my own hands," he said.
Sign up for our free e-mail list to see future vaticancatholic.com videos and articles.