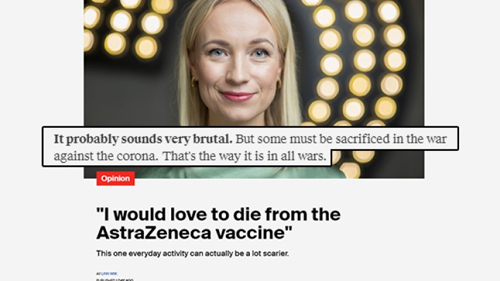 "A Norwegian journalist bizarrely claimed she would 'love to die from the AstraZeneca vaccine' if it meant other people in Europe were not discouraged from taking it.
The statement was made in the headline of Linn Wiik's article, which literally translates as 'I would love to die from the AstraZeneca vaccine.'
The AstraZeneca COVID-19 vaccine has been temporarily pulled by numerous countries across Europe, including Spain, France, Portugal, Cyprus, Austria, Denmark, Slovenia and Norway, due to reports of blood clotting and several deaths of people who took the jab.
In response to the news, Wiik defiantly suggested that she would be prepared to die from taking the vaccine if it meant others were not discouraged from taking it.
'Some must be sacrificed in the war against the corona,' she wrote. 'That's the way it is in all wars. This time it may well be me.'
Wiik went on to downplay deaths and illnesses linked to the vaccine, asserting, 'People get blood clots and die of cerebral hemorrhage every year.'
'But even if it turns out that it is the AstraZeneca vaccine that has caused blood clots or cerebral haemorrhage, I have no doubt: If I get the offer, I will take it anyway,' she continued.
'Because, sorry to say it so bluntly: Someone has to sacrifice in order for the rest to be safe.'"
Sign up for our free e-mail list to see future vaticancatholic.com videos and articles.