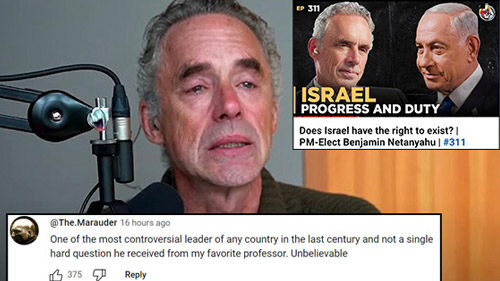 Jordan Peterson on Tuesday called for YouTube to segregate all anonymous commenters because his viewers overwhelmingly criticized his embarrassing, fawning interview of Israeli President Benjamin Netanyahu.
Peterson, who now works for Ben Shapiro at The Daily Wire, went to Israel last month with Shapiro to shill for Netanyahu.
Since returning, he has made it his mission to ban anonymity on the internet to combat "anti-Semitism" and silence "anonymous troll demons."
Peterson's interview with Netanyahu, which closer resembles a paid advertorial than any sort of journalism...
Peterson didn't ask one hard question of Netanyahu...
Sign up for our free e-mail list to see future vaticancatholic.com videos and articles.