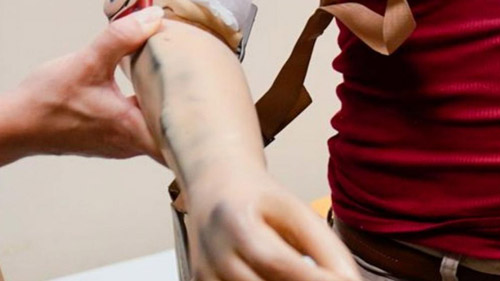 "A man in northern Italy brought a silicone arm to his COVID-19 vaccination in an attempt to obtain a green pass without actually getting the vaccine.
A green pass is Italy's digital COVID-19 certificate which allows the holder, who has been vaccinated, has recently tested negative for the virus or has recently recovered, to enter busy indoor spaces as well as workplaces.
The 50-year-old, who arrived at the clinic in Biella, Piemonte, was questioned after a healthcare worker became immediately suspicious about the colour and feel of his arm.
He was asked to show his entire arm – and then promptly reported to the carabinieri, the Italian police, for fraud.
'This case borders on being ridiculous, were it not for the fact that we're talking about an extremely serious act,' said the president of the Piemonte Region Alberto Cirio and the councillor for health Luigi Genesio Icardi in a joint statement, calling it 'unacceptable in light of the sacrifice that the pandemic is making everyone in our community pay.'...
Earlier this month, the Italian government cracked down on the No Green Pass movement by banning its protests from city centres."
Sign up for our free e-mail list to see future vaticancatholic.com videos and articles.