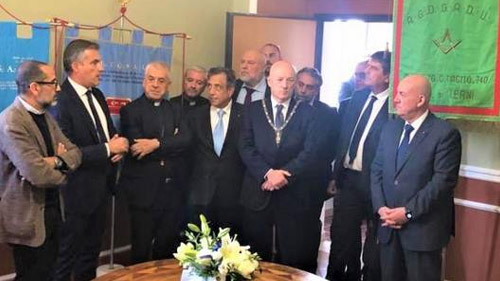 "An Italian bishop last week attended the inauguration ceremony for a new entrance to the Masonic Lodge of the Grand Orient of Italy in Terni. Following public outcry at the scandal, the diocese quickly attempted to save appearance, defending the bishop's presence at the event by invoking the 'Synodal path.'
On September 27, the Bishop of the Diocese of Terni, Francesco Antonio Soddu, together with numerous city and government officials, as well as leaders and members Italy's Masonic lodges, attended the ribbon cutting for the Masonic House in Via Roma in Terni. The Italian Catholic blogpost Messainlatino reported the event, noting the scandal of the bishop's presence.
According to the website and announcement of the Grand Orient of Italy (GOI), 'The ribbon was cut by Grand Master Stefano Bisi, who was welcomed in front of the Via Roma headquarters by Luca Nicola Castiglione, president of the Circumscriptional College of Worshipful Masters of Umbria, Gabriele Cardona, president of the Council of Worshipful Masters of Terni, and numerous brothers.'
'After the ceremony,' the announcement continued, 'a visit to the Masonic House, which has two temples inside, took place, which was attended by Mayor Leonardo Latini, Prefect Giovanni Bruno, [and] Bishop Francesco Antonio Soddu, who in their messages of greetings thanked for the invitation and expressed the hope that initiatives such as this can nurture dialogue and the comparison of different realities by defeating prejudices...
The Grand Master, Stefano Bisi, in his keynote address expressed typical masonic anticlerical sentiments, praising the secular state as the one and only guarantor of freedom and voicing the hope that September 20 would be restored as a holiday in celebration of the liberation of Italy from 'the domination of the Church.'
'Today,' Bisi declared, 'as in the past, our goal is always the same: to celebrate all the battles of freedom, starting with the one that in 1870 with the Breach of Porta Pia put an end to the domination of the Church, favoring the birth of free and secular Italy.'"

"Bishop Soddu (second from left) joins ribbon-cutting ceremony at the Masonic House"
Sign up for our free e-mail list to see future vaticancatholic.com videos and articles.